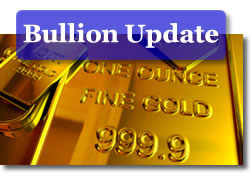 U.S. gold and silver prices settled modestly higher Wednesday following strong gains during the previous session.
April gold prices ended up $1.40, or 0.1 percent, to $1,365.50 an ounce on the Comex in New York — its best price since January 19. Gold ranged from $1,358.30 to $1,367.70.
Awakened inflation concerns, a weaker dollar and comments from Federal Reserve Chairman Ben Bernanke were among the influencers of the day that directed gold, opined analysts.
"I saw the positives to gold in Bernanke's comments. It seems that he's going to maintain the QE2 policy in place, and that's a bullish argument for commodities," Tom Pawlicki, a precious metals and energy analyst at MF Global, was cited on Reuters.

"Additional support … could come from China's return to the market after the Lunar New Year Festival. High demand both from private and institutional investors is likely to remain a major support factor for gold prices in the medium to long term," analysts at Commerzbank said in a note to clients that was recounted on MarketWatch.
Silver prices for March delivery edged higher by a half peny to $30.276 an ounce — its best price since January 3. Silver ranged from a low of $30.050 to a high of $30.500.
Platinum prices for April delivery declined $2.50, or 0.1 percent, to $1,859.40 an ounce. Prices ranged from $1,850.40 to $1,869.00.
Palladium prices for March delivery fell $12.00, or 1.4 percent, to $826.45 an ounce. It ranged from a low of $823.40 to a high of $839.50.
In PM London bullion prices, the gold fixing was $1,365.00 an ounce for a gain of $1.50 over the previous PM fixing. The London Silver Fix was $30.22 an ounce, rising 80 cents. Platinum was up $10.00 at $1,858.00 an ounce. Palladium rose $12.00 at $835.00 an ounce.
The one-ounce American Gold Eagle bullion sales total has risen every day this week, according to the latest figures from the United States Mint. The 22-karat coins were the only ones from the Mint's bullion product line to show an advance for the day. They climbed 4,000, reaching 23,000 for the month.
In other coin news and on the numismatic front, the United States Mint released the debuting sales numbers for the recently issued $5 gold, silver dollar and 50-cent clad U.S. Army coins. For information on how they performed during their first week, read: Army Commemorative Coins Sales Debut.
The latest United States Mint bullion sales figures follow.
U.S. Mint 2011 Bullion Coin Sales
February
2011 Totals
American Eagle Gold Coin (1 oz)
23,000
153,500
American Eagle Gold Coin (1/2 oz)
0
1,000
American Eagle Gold Coin (1/4 oz)
2,000
4,000
American Eagle Gold Coin (1/10 oz)
5,000
25,000
American Eagle Silver (1 oz)
897,000
7,319,000