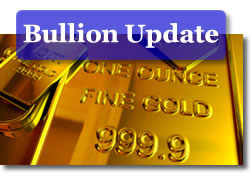 U.S. gold prices retreated Friday, but losses were slight and the yellow metal settled 0.5 percent higher on the week, capping its second straight weekly gain.
The U.S. dollar rose following a Labor Department report showing that the U.S. unemployment rate fell to 9 percent. That, combined with weakened safe-haven buying, was bearish for the yellow metal.
April gold prices lost $4.00, or 0.3 percent, to $1,349.00 an ounce on the Comex in New York.
"I don't think that gold has lost its value in the marketplace in terms of it being treated as a surrogate currency, but rather there is no catalyst at the moment to drive prices higher," Mark Luschini, chief investment strategist of Janney Montgomery Scott, a brokerage managing about $50 billion client assets, said and was quoted on Reuters.
Gold reached an intraday low of $1,345.50 an ounce and a high of $1,361.00 an ounce. The metal is up 0.5 percent on the week but down 5.1 percent for the year.
"As long as the Middle East remains unsettled, gold's interim lows are in place. Gold was going down and was starting to do some serious technical damage, but now there's a new reason to buy gold. The Middle East is bullish for gold and Uncle Ben (Bernanke) is still having a lot of fun," Shawn Hackett, president of Hackett Financial Advisors said and was cited on Kitco News.
Silver prices for March delivery advanced 33.1 cents, or 1.2 percent, to $29.059 an ounce. It ranged from $28.720 to $29.285. Silver also marked its second consecutive week of gains, rising 4.1 percent. That brought down its 2011 loss to 6.1 percent.
Platinum prices for April delivery added $1.70, or 0.1 percent, to $1,845.80 an ounce. Prices ranged from a low of $1,835.10 to a high of $1,863.40. The metal rose 2.3 percent on the week and is up 3.8 percent on the year.
Palladium prices for March delivery lost $4.10, or 0.5 percent, to $816.45 an ounce. It ranged from $813.00 to $834.50. Palladium edged down 0.1 percent this week but is up 1.6 percent in 2011.
In PM London bullion prices, the gold fixing was $1,355.00 an ounce for a pick-up of $27 from the previous PM fixing. The London Silver Fix was $28.91 an ounce for an increase of 61 cents. The platinum fixing gained $10.00 to $1,838.00 and the palladium fixing rose $5.00 to $813.00 an ounce. All London metals registered weekly advances with increases of 2.7 percent for gold, 8.4 percent for silver, 3.0 percent for platinum and 0.9 percent for palladium.
United States Mint authorized buyers scooped up more one-ounce bullion coins on Friday. American Gold Eagles rose 7,500 and American Silver Eagles gained 76,500. (See table below.)
In a quick recap, this week the United States Mint also published the final January sales for its bullion coins. For an updates on how the month performed, read:
The latest United States Mint bullion sales figures follow.
U.S. Mint 2011 Bullion Coin Sales
February
2011 Totals
American Eagle Gold Coin (1 oz)
12,500
143,000
American Eagle Gold Coin (1/2 oz)
0
1,000
American Eagle Gold Coin (1/4 oz)
2,000
4,000
American Eagle Gold Coin (1/10 oz)
5,000
25,000
American Eagle Silver (1 oz)
126,500
6,548,500