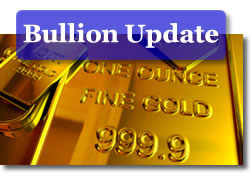 U.S. precious metals prices rose Thursday with gold and silver taking lead as each gained 1.6 percent.
Safe-haven demand and bargain-hunting were most often attributed for the gains in gold.
April gold prices finished up $20.90 to $1,353.00 an ounce on the Comex in New York. The yellow metal reached an intraday low of $1,325.30 an ounce and a high of $1,356.60 an ounce — the best point since January 20.
"The fact that protests are spreading suggests that they are feeding each other, which could lead to 2011 being the year of the Middle East revolution," Tom Pawlicki, an analyst at MF Global Holdings Ltd. in Chicago, said in a report which was reported on Bloomberg. "Increasing tension between these new governments and Israel may keep metal prices elevated on safe-haven demand."
Silver prices for March delivery settled higher by 43.9 cents to $28.728 an ounce. It ranged from $27.960 to $28.855.
Platinum prices for April delivery rose $15.50, or 0.8 percent, to $1,844.10 an ounce. Prices ranged from a low of $1,820.60 to a high of $1,845.50.
Palladium prices for March delivery advanced $10.00, or 1.2 percent, to $820.55 an ounce. It ranged from $805.75 to $823.50.
In PM London bullion prices, the gold fixing was $1,328.00 an ounce for a loss of $9 from the previous PM fixing. The London Silver Fix was $28.30 an ounce for a modest 3 cent gain. The platinum fixing fell $2.00 to $1,828.00 and the palladium fixing declined $11.00 to $808.00 an ounce.
The latest US Mint sales figures show that most of the excitement around coins is focused on the Mint's bullion issues and its recently launched numismatic coin sets. The latest bullion coin sales follow:
U.S. Mint 2011 Bullion Coin Sales
February
2011 Totals
American Eagle Gold Coin (1 oz)
5,000
135,500
American Eagle Gold Coin (1/2 oz)
0
1,000
American Eagle Gold Coin (1/4 oz)
2,000
4,000
American Eagle Gold Coin (1/10 oz)
5,000
25,000
American Eagle Silver (1 oz)
50,000
6,472,000