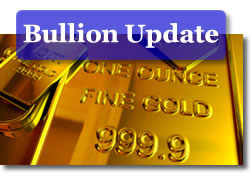 Gold prices rallied the most in three months Friday after falling to their lowest level in nearly four months during the previous session. Safe-haven demand amid rising protests in Egypt was attributed to the gains.
April gold prices rose $21.90, or 1.7 percent, to $1,341.70 an ounce on the Comex in New York, reversing an expected weekly loss to a gain of 0.1 percent. Friday's jump was the biggest one-day advance for gold since November 4. The metal hit an intraday low of $1,309.10 an ounce, which was its weakest point since October 1. Its high was $1,348.00 an ounce.
"All things Egypt. There is a major flight to quality… a stronger dollar, and flight into bonds, flight into gold," Frank McGhee, head precious metals trader of Integrated Brokerage Services in Chicago, was quoted on Reuters. "Gold is benefiting more than bonds at this particular point. People are looking at gold as a safe haven in times like this, and it's certainly showing it," he said.
"Selling pressure in gold abated on Friday as market participants viewed riots in Egypt with some apprehension and bought up gold on a safe-haven bid," reported Debbie Carlson of Kitco News.
"The firm close the markets staged was enough to encourage some, but not all, technical analysts to suggest prices could start to bottom," she added.
Gold prices are still down 5.6 percent this year.
Silver prices for March delivery surged 88.8 cents, or 3.3 percent, to $27.919 an ounce. It ranged from $26.300 to $28.03. This week the price has advanced 1.8 percent — its first weekly increase in January. The precious metal is down 9.8 percent on the year.
Platinum and palladium climbed for the day as well, but modestly. And, unlike gold and silver, the metals have gained in 2011.
Platinum prices for April delivery advanced $1.50, or 0.1 percent, to $1,805.00 an ounce. Prices ranged from a low of $1,761.10 to a high of $1,809.90. Platinum fell 0.9 percent this week but it has risen 1.5 percent for the year.
Palladium prices for March delivery added $3.50, or 0.4 percent, to $817.00 an ounce. It ranged from $790.95 to $818.40. Palladium rose 25 cents for the week and 1.7 percent for the year.
In PM London bullion prices, gold was fixed to $1,319.00 an ounce, $15.50 lower than the previous PM fixing and down 1.8 percent for the week. The London Silver Fix was $26.68 an ounce for a loss of 71.0 cents on the day and 1.7 percent on the week. The platinum fixing declined $23.00 to $1,784.00 and the palladium fixing fell $8.00 to $806.00. Their respective weekly losses were 1.8 and 1.0 percent.
According to the United States Mint website, it has not sold any American Eagle bullion coins this week. That, after the Silver Eagles had just broken the all-time monthly record last week. Current sales figures follow:
U.S. Mint 2011 Bullion Coin Sales
Daily Gain
January Totals
American Eagle Gold Coin (1 oz)
0
80,500
American Eagle Gold Coin (1/2 oz)
0
1,000
American Eagle Gold Coin (1/4 oz)
0
2,000
American Eagle Gold Coin (1/10 oz)
0
15,000
American Eagle Silver (1 oz)
0
4,724,000