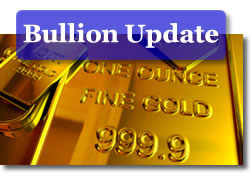 Gold prices rose Wednesday after having dropped to a three-month low during the previous session. Other metals improved as well, with silver breaking its daily losing streak that began exactly one week ago.
February gold prices edged higher by 70 cents, or 0.1 percent, to $1,333.00 an ounce on the Comex in New York. Gold ranged from $1,324.30 to $1,337.70. It spent much of the day at eight-week lows until breaking out in the final hour of trading. The yellow metal has declined 6.2 percent in 2011.
"Gold hitting a three-month low makes it a bit attractive for bargain hunters, especially Asian jewelry buyers," Peter Fertig, owner of Quantitative Commodity Research Ltd. in Hainburg, Germany, was quoted on Bloomberg. "The weakness in the U.S. dollar is also supporting gold."
"Gold hasn't adjusted to a world in which interest rate rises are conceivable particularly well, and some investors seem to think enough is enough," Mitsubishi analyst Matthew Turner was cited on Reuters.

"We could see further weakness, particularly if the economic data continues to be strong worldwide. However, with major problems remaining in the eurozone and U.S. economies, it is doubtful this signals the end of the gold bull market."
Silver prices for March delivery gained 32.3 cents, or 1.2 percent, to $27.128 an ounce. They ranged from $26.655 to $27.150. Silver has declined 12.3 percent in 2011.
Platinum prices for April delivery advanced $9.60, or 0.5 percent, to $1,796.90 an ounce. Prices ranged from a low of $1,781.10 to a high of $1,809.90. Platinum has climbed 1.1 percent this year.
Palladium prices for March delivery added $19.85, or 2.5 percent, to $804.60 an ounce. The metal ranged from $780.00 to $805.40. Palladium is up 0.1 percent in 2011.
In PM London bullion prices, gold was $1,328.00, platinum was $1,791.00 and palladium was $790.00 — each $4.00 higher than their previous fixings. London silver was fixed up 40 cents to $27.100 an ounce.
U.S Mint bullion coins continued their unusual silence after their sales were last adjusted upward on Friday. Those figures are shown below:
U.S. Mint 2011 Bullion Coin Sales
Daily Gain
January Totals
American Eagle Gold Coin (1 oz)
0
80,500
American Eagle Gold Coin (1/2 oz)
0
1,000
American Eagle Gold Coin (1/4 oz)
0
2,000
American Eagle Gold Coin (1/10 oz)
0
15,000
American Eagle Silver (1 oz)
0
4,724,000