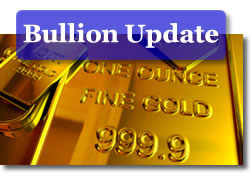 U.S. gold prices dropped in after-hours trading Thursday after its settlement was higher for a fourth straight day. Silver, which was the only precious metal on the day to close lower, fell even further.
"Comex gold futures dropped further in after-hours trading Thursday afternoon amid some fresh selling pressure due to gold-market bearish remarks from Federal Reserve Chairman Ben Bernanke," noted Jim Wyckoff of Kitco News.

"Bernanke told a panel Thursday afternoon he is 'optimistic' and expects the U.S. economy to grow at a healthy pace of between 3% and 4% this year. Bernanke also said the key U.S. jobs situation is improving. This only added to trader perceptions this week that investor risk appetite is on the upswing as the U.S. stock indexes this week hit multi-year highs. That's a bearish underlying factor for safe-haven gold."
Gold last traded down $13.20 an ounce to $1,373.80. Silver fell lower 53.8 cents to $28.725.
New York Precious Metals Closing Prices Follow:
February gold prices had eased higher $1.20, or 0.1 percent, to settle at $1,387.00 an ounce on the Comex in New York, marking a fourth straight day of gains. Prices ranged from $1,377.20 to $1,392.90.
Breaking a three-day winning streak, silver prices for March delivery fell 28.2 cents, or 1.0 percent, to settle at $29.263 an ounce. They ranged from $28.915 to $29.810.
Platinum has rallied for six consecutive days. Platinum prices for April delivery added $20.10, or 1.1 percent, to close at $1,821.20 an ounce. Platinum ranged between $1,794.50 and $1,833.00.
Palladium prices for March delivery rose $6.85, or 0.8 percent, to settle at $814.70 an ounce, registering its third straight daily gain. Palladium ranged from $808.90 to $822.95.
In PM London bullion prices, the benchmark gold Fix was $1,381.50 an ounce for a gain of $2.75 from the previous PM fixing. London silver was fixed to $29.220 an ounce for a loss of 38.0 cents. Platinum was $1,824.00 an ounce for a pick-up of $31.00. Palladium was $819.00 an ounce, rising $16.00.
US Mint bullion coins have been taking a break every other day this week. Sales totals were unchanged from the previous day, as occurred on Tuesday.
U.S. Mint 2011 Bullion Coin Sales
Daily Gain
January Totals
American Eagle Gold Coin (1 oz)
0
42,500
American Eagle Gold Coin (1/2 oz)
0
0
American Eagle Gold Coin (1/4 oz)
0
0
American Eagle Gold Coin (1/10 oz)
0
10,000
American Buffalo Coin (1 oz)
Not Yet Offered
American Eagle Silver (1 oz)
0
3,407,000