The US Mint has reported opening sales figures of 75,000 for the 2010 America the Beautiful Silver Bullion Coins.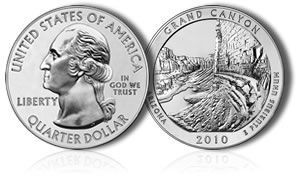 That is the amount Authorized Purchasers (AP's) ordered when the three-inch, five ounce bullion coins re-launched on Friday, December 10. A total of 165,000 are made available this year, which leaves 90,000 left.
The sales level does not indicate demand in this case, since the coins are not sold directly to consumers. Further, many of the Mint's AP's who can order them are still evaluating the new terms and conditions they must abide by if they take their allocated 3,000 coins for each of the five 2010 designs, or 15,000 coins in total. They have until 3:00 PM Friday, December 17, 2010, to make up their mind and place an order.
Since there are 11 authorized purchasers and 75,000 of the America the Beautiful Silver Bullion Coins have sold, it would suggest that at least 5 of the 11 are already participating in the program. Most of the authorized purchasers are not known for selling directly to consumers, which is a new condition for ordering the five ouncers. AP's over the years have typically engaged in reselling only to other companies, who then make them available for the secondary market. The method has worked exceptionally well for both the US Mint and the AP's in moving tens of millions of bullion gold and silver American Eagles each year.
If any of the Authorized Purchasers choose not to order their allotted America the Beautiful Silver Bullion Coins, the extras will be made available on December 20, 2010, to the rest in the group of 11 who have.
On Monday, the US Mint released the latest list of 11 US Mint Authorized Purchasers. They are:
A-Mark Precious Metals (Los Angeles)
Coins N Things Inc. (Massachusetts)
MTB (New York)
Scotia Mocatta (New York)
American Precious Metals Exchange Inc (Oklahoma)
Dillon Gage Incorporated of Dallas (Texas)
Prudential Securities Inc. (New York)
The Gold Center (Illinois)
Jack Hunt Coin Broker (New York)
Commerzbank (New York)
Fidelitrade (Delaware)
The US Mint has limited 2010 mintages to 33,000 for each of the five designs. Similar to this year's America the Beautiful Quarters®, the America the Beautiful Silver Bullion Coins honor Hot Springs National Park (Arkansas), Yellowstone National Park (Wyoming), Yosemite National Park (California), Grand Canyon National Park (Arizona) and Mount Hood National Forest (Oregon).
The Mint has indicated another 27,000 per design are being reserved for collector uncirculated versions that will be available in early 2011. Unlike the bullion coins, these will be sold directly by the US Mint to individual buyers. They will also feature the Philadelphia 'P' mintmark.