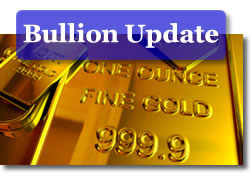 U.S. gold prices steadied Wednesday after precious metals were thumped in the previous day's after-hours trading.
A rebounding U.S. dollar, profit-taking, and tighter margin requirements for silver were cited for sparking the sell-off. Late Tuesday the Chicago Mercantile Exchange (CME) announced an increase in silver margins from $5,000 to $6,000.
"When the exchange raises margin requirements, the nimble traders are going to try to dump and buy at a lower price," Adam Klopfenstein, a senior market strategist at Lind- Waldock in Chicago, was quoted on Bloomberg. "That was a bearish catalyst for the metals."
When compared to prior day closing prices, silver and palladium plunged the furthest. They suffered respective losses of 7.1 and 6.2 percent.
New York precious metals closing prices follow:
Gold prices for December delivery lost $10.80, or 0.8 percent, to end at $1,399.30 an ounce — $3.90 lower than the close on Monday. Gold prices ranged from $1,383.40 to $1,410.00.
December silver prices plunged $2.041 to settle at $26.865 an ounce. The drop was the largest since December 2008, and a far cry from the 30-year high of $29.34 seen earlier Tuesday. Still, the price is 12 cents higher than its closing level on Friday, which capped a weekly 8.9 percent increase. Silver ranged Wednesday from $26.485 to $28.175.
Platinum prices for January delivery tumbled $71.70, or 4.0 percent, to close at $1,737.90 an ounce. It ranged from $1,730.00 an ounce to $1,788.00 an ounce.
Palladium prices for December delivery plummeted $45.90 to settle at $696.75 an ounce. It ranged from $686.65 to $724.40.
In PM London gold prices, the benchmark gold Fix was $1,390.50 an ounce for a loss of $30.50. Silver was fixed to $27.530 an ounce, down $1.02.
"This high volatility suggests strong involvement by speculative-oriented financial investors, but is by no manner of means a phenomenon that only applies to the silver market," analysts at Commerzbank said in a note to clients that was cited on MarketWatch. "The fact that silver is in high demand and is outstripping gold in terms of investor interest is also shown by renewed high inflows into silver ETFs."
In London PGM metals, the platinum Fix was $1,768.00 an ounce for a loss of $18.00 and palladium was $714.00 an ounce, down $16.00.
In gold and silver coin news, it would appear buyers grabbed United States Mint bullion Silver Eagle coins on price dips. Tuesday's daily increase of 435,000 was impressive, but pales against the 675,000 advanced on Wednesday. Year-to-date sales of the .999 fine silver coins just passed the 30 million mark.
Bullion Gold Eagle sales also improved, rising 12,000 compared to the previous day's 8,000. The increase pushed the 22 karat gold coins over 1 million for the year. The fraction one tenth ounce Gold Eagles also gained, advancing 5,000 and for the first time in November. The following are the latest United States Mint figures:
U.S. Mint 2010 Gold & Silver Bullion Coin Sales
November
2010 Totals
American Eagle Gold Coin (1 oz)
31,500
1,008,500
American Eagle Gold Coin (1/2 oz)
1,000
40,000
American Eagle Gold Coin (1/4 oz)
2,000
58,000
American Eagle Gold Coin (1/10 oz)
5,000
385,000
American Buffalo Gold Coin (1 oz)
Sold Out
209,000
American Eagle Silver (1 oz)
1,590,000
30,220,500