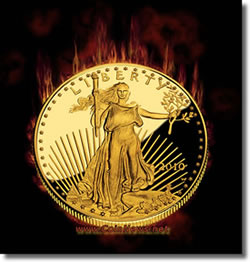 With the sell out of the most popular single one ounce 2010 Proof Gold Eagle combined with expected price increases on Wednesday, buyers quickly shifted their attention to the remaining product options. They spent more money than in each of the prior two weeks, lifting total coin sales near $100 million.
Fractional 2010 Proof Gold Eagles and the 4-coin proof set outperformed their prior weekly gains, with the latter enjoying the most interest and posting its best weekly pick up since the 22 karat gold coins were launched on October 7, 2010.
The latest U.S. Mint coin sales figures cover up to November 7, 2010, making the Gold Eagle sales period exactly one month in duration. The following are the product unit breakouts by week during that one month:
2010 Proof Gold Eagle One Month Sales
Unit
Increase
Oct 7-
Oct 10
Unit
Increase
Oct 11-
Oct 17
Unit
Increase
Oct 18-
Oct 24
Unit
Increase
Oct 25-
Oct 31
Unit
Increase
Oct 31-
Nov 7
One
Month
Sales
Totals
Product
Limits
1 oz
13,980
5,215
2,107
3,698
0
25,000
25,000
1/2 oz
2,173
706
247
373
503
4,002
15,000
1/4 oz
2,780
669
311
246
407
4,413
16,000
1/10 oz
6,945
1,593
644
609
620
10,411
27,000
4-coin set
7,147
2,840
1,432
1,366
4,639
17,424
39,000
The latest weekly increases boosted the Mint's gross revenue by $14.32 million, bringing total revenue for the gold series to $97,755,111. In contrast, the prior two weekly gains lifted Mint sales by $10.39 million and $7.99 million, respectively.
Gold Eagle Price Increases Likely
Through a series of unique market circumstances, the proof gold series narrowly missed price hikes on October 19, and then again on November 3. The London Fix gold range from $1,300 to $1,349.99 has been the level used by United States Mint to set numismatic gold product prices since the proof Gold Eagles were released. Barring a miracle, however, prices will increase Wednesday, November 10.
The London PM gold fixing on Tuesday was $1,421 an ounce. Unless Wednesday's London PM fixing falls below $1,350 an ounce, the Gold Eagles will see price increases of $25 for the one half ounce, $12.50 for the one quarter ounce, $5 for the one tenth ounce, and $92.50 for the four-coin set.
When necessary, the U.S. Mint generally adjusts coin prices between 11:00 AM-12:00 ET on Wednesday. Other coins that will see increases include:
both proof and uncirculated 24 karat First Spouse Gold Coins (up $25)
the 24 karat 2010-W Gold Buffalo coin (up $50)
Coins may be ordered through http://catalog.usmint.gov/ or by calling the toll free number 1-800-USA-MINT (872-6468).