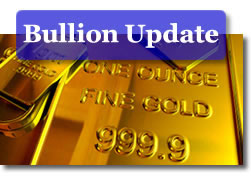 Gold prices inched slightly higher Tuesday as the U.S. dollar declined on continued speculation it would weaken further as a result of the Fed's upcoming plan to bolster the economy. Gold rose 0.5 percent, missing a high of $1,360 an ounce by 10 cents in early trading.
Metals were mixed as a group. Silver performed the best, rising 1.2 percent and nearing $25 an ounce. In PGM metals, platinum climbed 0.4 percent but palladium fell 0.5 percent.
In other markets, crude oil hit a six-month high while U.S. stocks rose with the major indexes gaining between 0.5 and 1.2 percent.
New York precious metals closing prices follow:
Gold prices for December delivery rose $6.30, or 0.5 percent, to $1,356.90 an ounce on the Comex in New York. It ranged from $1,350.20 to $1,359.90.

December silver jumped 28.4 cents, or 1.2 percent, to close at $24.836 an ounce. Prices ranged between $24.615 and $24.925.

Platinum prices for January delivery ended up $7.60, or 0.4 percent, to $1,719.10 an ounce. It ranged from $1,709.70 to $1,724.60.

December palladium declined $3.25, or 0.5 percent, to finish at $645.45 an ounce. Prices ranged between $642.50 and $656.00.
In notable bullion quotes of the day:
"Gold is poised to move higher on the weaker dollar," Frank Lesh, a trader at FuturePath Trading in Chicago, was quoted on Bloomberg. "The dollar is gold's main driver, and how much and how fast it moves lower depends on what the Fed says."

"Most of the action to the upside in gold was US dollar related (what else is new these days?)," wrote Jon Nadler, senior analyst at Kitco Metals Inc. "As things stand now, of course, all eyes and ears are fixated on tomorrow's Fed announcement. Will the Fed give? How much? Over what period of time? Will its program meet/exceed or fall short of market expectations? Have most scenarios already been 'baked into the cake?' Will someone sell the news, having bought the rumor? Crystal ball vendors reported shortages across the board and did not blame Sunday's Halloween for the lack of supplies," added Nadler.
In PM London bullion prices, the benchmark gold Fix was $1,351.00 an ounce, falling $3.50 from the price on Monday. The silver Fix was $24.730 an ounce for a loss of 18 cents. The platinum fixing came in at $1,718.00 an ounce, rising $3.00. Palladium was $650.00 an ounce, up $6.
In bullion coin news, United States Mint October 2010 Silver Eagle sales broke a four-month declining trend. The 2.6 million sold made it the second best October ever since the series was introduced in 1986. As for November, no new sales were reported Tuesday but the one-once bullion coins climbed on Monday. The following are the latest U.S. Mint coin sales figures:
U.S. Mint 2010 Gold & Silver Coin Sales
November
2010 Totals
American Eagle Gold Coin (1 oz)
7,500
981,500
American Eagle Gold Coin (1/2 oz)
0
39,000
American Eagle Gold Coin (1/4 oz)
0
56,000
American Eagle Gold Coin (1/10 oz)
0
380,000
American Buffalo Gold Coin (1 oz)
Sold Out
209,000
American Eagle Silver (1 oz)
105,000
28,185,500
Oil and gasoline prices
New York oil futures prices surged to settle at their highest level since May 3. December crude climbed 95 cents, or 1.2 percent, to $83.90 a barrel.
"It's the weaker dollar and expectations for the stimulus package," Tom Bentz, a broker with BNP Paribas Commodity Futures Inc. in New York, said and was quoted on Bloomberg. "Half a trillion dollars was supposedly priced in since we rallied from September to October, but people are already anticipating that it could be larger."
The national average for regular unleaded gasoline declined three-tenths of a cent to $2.800 a gallon, according to AAA fuel data. The price is a penny lower than last week, 8.9 cents higher than a month back, and 10.9 cents more than the price from a year ago.
U.S. Stocks
U.S. stocks moved higher Tuesday as investors, opined analysts, were bullish on elections and Fed expectations.
"Most of the people I'm dealing with are hoping Republicans get a firm grip on things, and the thinking is that that ultimately helps out the economy," Phil Streible, a senior market strategist with futures broker Lind-Waldock, said and was cited on CNNMoney.com. "Spending won't be as loose, budgets will be more in line and fiscal responsibility will kick in."
The Dow Jones industrial average rose 64.10 points, or 0.58 percent, to 11,188.72. The S&P 500 Index added 9.19 points, or 0.78 percent, to 1,193.57. The Nasdaq Composite Index advanced 28.68 points, or 1.14 percent, to 2,533.52.