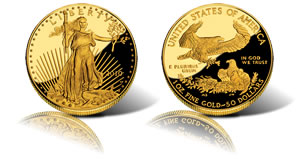 Buyers stopping by the U.S. Mint's website this weekend to purchase the standalone one-ounce 2010 Gold Eagle Proof coin discovered all 25,000 had been ordered.
While the Mint is not yet officially calling the product a sell out, customers must place an order to join a standby list and then hope one of the 25,000 prior orders is canceled. On Saturday, the United States Mint placed the following on its one-ounce 2010 Gold Eagle Proof Coin product page:
Waiting List Notice: The number of orders we have taken meets the maximum limit for the 2010 American Eagle One Ounce Gold Proof Coin. You may still place an order for this product, which will go on a waiting list. If a product becomes available due to an order cancellation, we will fulfill orders from the waiting list on a first-in, first-served basis. We cannot provide information about your position on the waiting list.

When we place your order on the waiting list, we will send you an order receipt. This is not a guarantee that you will receive your order. If we are not able to fulfill part or all of your order, you will receive a cancellation or sold-out notification.
The fact that the limit was hit over the weekend is a bit of a surprise. Opening sales for the coins were robust, with nearly 14,000 grabbed during the first four days following their October 7, 2010, release. After the first full week only 5,215 more were ordered, which was then followed by the next weekly increase of 2,107. The most recent sales figures had their total at 21,302, leaving 3,698 left.
For buyers who still want the guarantee of receiving the one-ounce size Gold Eagle proof from the Mint, the 4-coin option is still available — although it will cost much more. At last count there was still more than 27,000 available. The 4-coin set includes all the 2010 Gold Eagle Proof coin sizes.
The following table provides the 2010 Gold Eagle Proof Coin product options:
PRODUCT
LIMIT
MINTAGE
LIMIT
CURRENT PRICE*
1 Ounce Gold Eagle
25,000
64,000
$1,585.00
1/2 Ounce Gold Eagle
15,000
54,000
$806.00
1/4 Ounce Gold Eagle
16,000
55,000
$415.50
1/10 Ounce Gold Eagle
27,000
66,000
$180.50
Four-Coin Set
39,000
N/A
$2,938.00
*Prices can change every Wednesday depending on gold trends.
Orders can be placed at the Mint's Web site (http://www.usmint.gov/catalog) or by calling 1-800-USA-MINT (872-6468).