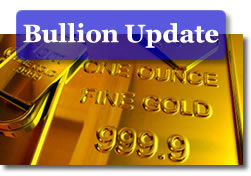 Gold prices surged Thursday, rising for the first time in three days as the U.S. dollar weakened against other world currencies. The yellow metal jumped to over $1,340 an ounce as it rallied 1.5 percent.
Other precious metals followed. Platinum rose 0.8 percent while palladium added 1.7 percent. Silver outperformed them all, soaring 2.0 percent and briefly climbing above $24 an ounce.
In other markets, crude oil rose slightly while U.S. stocks closed nearly unchanged. The Dow declined 0.11 percent, the S&P gained 0.11 percent, and the Nasdaq rose 0.16 percent.
New York precious metals closing prices follow:
Gold futures for December delivery surged $19.90 to $1,342.50 an ounce on the Comex in New York. It ranged from $1,322.90 to $1,346.20. Gold lost $16 in the previous session.

December silver advanced 47.1 cents to close at $23.875 an ounce. It ranged between $23.500 and $24.040. Silver plummeted 42.6 cents on Wednesday.

Platinum for January delivery added $13.90 to $1,692.00 an ounce. It ranged from $1,675.00 to $1,693.40.

Palladium for December delivery gained $10.30 to finish at $629.45 an ounce. It ranged between $616.45 and $631.75.
In notable bullion quotes of the day:
"All the factors that have allowed gold to move higher are pretty much still in place," including fears of inflation, uncertainty, and a fundamentally weaker dollar, Bill O'Neill, a principal at Logic Advisors in New Jersey, was quoted as saying on MarketWatch.

"The U.S. dollar index was trading moderately lower early Thursday and then sold off sharply at mid-morning, allowing gold prices to rise to their session highs," wrote Jim Wyckoff if Kitco News. "The U.S. dollar-bullish story Wednesday in the Wall Street Journal that suggested the Fed may not employ a large quantitative easing effort in November was short-lived. Traders today chose to focus on the dollar-bearish and gold-bullish inflationary implications that could come from the U.S. central bank essentially printing dollars," added Wyckoff.
In PM London bullion prices, the benchmark gold Fix was $1,333.50 an ounce, rising $9.00 from the price on Wednesday. The silver Fix was $23.730 an ounce for a loss of 4 cents. The platinum fixing came in at $1,685.00 an ounce for a loss of $10.00. Palladium was $626.00 an ounce, up $4.
For a second straight day, the United States Mint has not published new sales of its bullion coins. The Silver Eagles have remained unusually quiet since Monday. Current U.S. Mint coin sales figures follow:
U.S. Mint 2010 Bullion Coin Sales
October
2010 Totals
American Eagle Gold Coin (1 oz)
86,500
974,000
American Eagle Gold Coin (1/2 oz)
3,000
39,000
American Eagle Gold Coin (1/4 oz)
2,000
56,000
American Eagle Gold Coin (1/10 oz)
25,000
380,000
American Buffalo Gold Coin (1 oz)
Sold Out
209,000
American Eagle Silver (1 oz)
2,600,000
28,080,500
Oil and gasoline prices
New York oil futures prices rose for a fourth time in five sessions, supported by the weaker dollar. December crude advanced 24 cents, or 0.3 percent, to close at at $82.18 a barrel. Prices dropped 61 cents on the previous day.
"The markets are wildly choppy," Bill O'Grady, chief market strategist at Confluence Investment Management in St. Louis, was quoted on Bloomberg. "Oil traders are looking at the dollar and stocks for direction. We will have to wait for the fundamentals to improve before prices can move much higher."
The national average for regular unleaded gasoline rose one-tenth of a cent to $2.808 a gallon, according to AAA fuel data. The price is 2.3 lower than last week, 11.7 cents higher than a month back, and 12.5 cents above the price from a year ago.
U.S. Stocks
U.S. stocks were mixed for a second day, and again changed narrowly.
"We're going to have a lot of choppiness in the market until we get some clarity from the Fed's plan next week," Peter Tuz, president at Chase Investment Counsel, was cited on CNNMoney.com.
The Dow Jones industrial average fell 12.33 points to 11,113.95. The S&P 500 Index rose 1.33 points to 1,183.78. And the Nasdaq Composite Index advanced 4.11 points to 2,507.37.