The acclaimed Cardinal Collection Educational Foundation's large cents collection, the number one-ranked set of its kind in both the PGCS and NGC Set Registry listings, will be publicly displayed for the first time in the Baltimore-Washington area during the first two days of the Whitman Coin & Collectibles Baltimore Expo, November 4 and 5, 2010.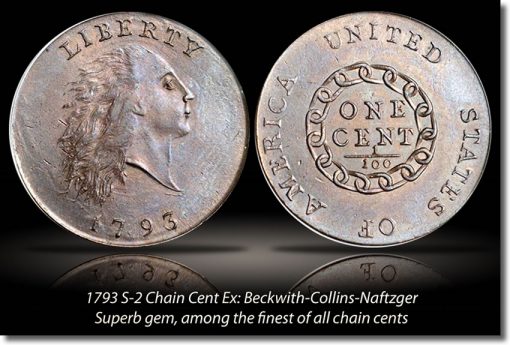 The exhibit, co-sponsored by Bowers and Merena Auctions and Collateral Finance Corporation, will be displayed at the Bowers and Merena booth, #1205, during the show.
"It is truly an amazing collection that includes some of the finest known examples of United States large cents struck from 1793 to 1857, said Greg Roberts, CEO of Bowers and Merena. "There are 77 large cents in the set, and many are the finest known for their respective date and type."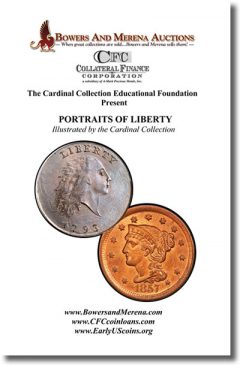 While supplies last, visitors to the exhibit can receive a free, 40-page illustrated booklet published by the foundation, "Portraits of Liberty," that describes the history of U.S. large cents.
Highlights of the exhibit include:
1793 Chain Cent (S-2) graded PCGS MS65BN that set a world's record in 2005 as the most valuable U.S. cent at the time;

1793 Wreath Cent, PCGS MS69BN, the single highest-graded 18th century U.S. coin of any date of denomination;

1794 Liberty Cap "Head of 1793" Cent, PCGS MS64BN, described by Logies as "the single finest representative work of early Mint engraver, Joseph Wright;"

1803 Draped Bust Cent, PCGS MS66RB, acclaimed by the Early American Coppers society as tied for the finest known Draped Bust cent of any date or variety;

the record-setting 1842 Braided Hair Cent from the Naftzger Collection, PCGS MS65RD, widely acknowledged as the finest existing "Petite Head" type;

and another record-setting coin from the Naftzger Collection, an 1852 Braided Hair Cent, graded PCGS MS65RD, and acknowledged as the finest existing cent from its era.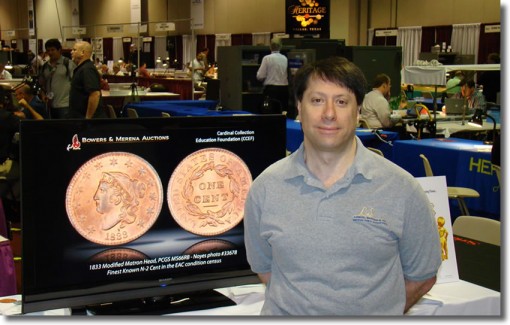 "The Cardinal Collection Educational Foundation is a non-profit educational organization that focuses on the study and publication of information about early coinage of the United States of America. With the valued assistance of Bowers and Merena and Collateral Finance Corporation, this will be the first opportunity for collectors to see these superb-quality, early American cents in person in the Washington-Baltimore area," said Martin Logies, a director of the Sunnyvale, California-based foundation.
One of America's leading rare coin auction houses, Bowers and Merena of Irvine, California holds three of the top seven world-record auction prices for U.S. coins. For additional information call (949) 253-0916 or visit online at www.BowersandMerena.com.
Collateral Finance Corporation of Santa Monica, California offers precious metals financing to dealers and collectors on a wide array of bullion and numismatics. For additional information, call (310) 587-1410 or visit www.CFCcoinloans.com.
The Whitman Coin & Collectibles Baltimore Expo will be held in the Baltimore Convention Center, One Pratt Street, Baltimore. It will be open to the public on Thursday, November 4, from Noon to 6 p.m.; Friday and Saturday, November 5 and 6, from 10 a.m. to 6 p.m., and Sunday, November 7, from 10 a.m. to 3 p.m.