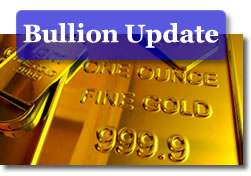 U.S. gold did not top $1,300 an ounce on Thursday but prices did settle higher for another fresh record. Disappointing housing and jobs data were among the factors cited for the yellow metals safe-haven appeal.
Precious metals again rose as group. Silver and platinum each edged up 0.8 percent. Palladium surged 2.8 percent.
In other markets, crude oil settled slightly higher to just above $75 a barrel while U.S. stocks fell with the major indexes slipping between 0.31 and 0.84 percent.
New York precious metals closing prices follow:
Gold for December delivery added $4.20, or 0.3 percent, to finish at $1,296.30 an ounce on the Comex in New York. It ranged from $1,288.20 to $1,297.50.

December silver rose 15.8 cents to $21.213 an ounce. It ranged between $20.885 and $21.265.

Platinum for January delivery, the new most active contract, advanced $13.20 to close at $1,650.20 an ounce. It ranged from $1,629.60 to $1,650.50.

Palladium for December delivery soared $14.95 to $556.85 an ounce. It ranged between $536.60 and $559.70.
In notable bullion quotes of the day:
"The stock market is in a defined trading range," Leonard Kaplan, the president of Prospector Asset Management in Evanston, Illinois, said and was cited on Bloomberg. "You can't buy Treasury bills and bonds because they pay next to nothing. Gold has been rising, and that's where the money is going, but it's going to be a hard day for gold to get to $1,300 because the dollar is higher."
"Right now, the gold market is really responding to uncertainty, and any weak economic news is a bull signal to gold," William Rhind, strategic director at ETF Securities, said and was quoted on Reuters. "Gold is still reacting to another round of possible quantitative easing and the future ramifications for paper currencies in general."
"As gold prices rallied so has silver as the 'poor man's gold' enjoys some attention from the speculative class. For those who choose not to buy gold as an alternative currency, silver has offered an inexpensive way to invest on that thesis, wrote Debbie Carlson of Kitco News. "Further, silver has benefited from its dual role as an industrial metal, rallying alongside copper and other base metals as ideas of an eventual global manufacturing recovery pick up."
In PM London bullion, the benchmark gold Fix price was $1,290.75 an ounce, down $2.75 from Wednesday. Silver was unchanged at $21.080 an ounce. Platinum settled at $1,631.00 an ounce for a loss of $1.00. Palladium was $541.00 an ounce, dropping $2.00.
Sales levels for all United States Mint one-ounce bullion coins rose Thursday. Gold Buffalo and Gold Eagle coins each increased by 1,500. The bullion Silver Eagle jumped 50,000. The latest bullion coin figures as published by the United States Mint follow:
U.S. Mint 2010 Bullion Coin Sales
September
2010 Totals
American Eagle Gold 1 oz
55,000
860,000
American Eagle Gold 1/2 oz
1,000
35,000
American Eagle Gold 1/4 oz
2,000
50,000
American Eagle Gold 1/10 oz
15,000
340,000
American Buffalo Gold 1 oz
10,000
209,000
American Eagle Silver 1 oz
1,095,000
24,695,500
Oil and gasoline prices
New York crude oil settled higher on Thursday, rising 47 cents, or 0.6 percent, to $75.18 a barrel. Price gains were attributed to the release of data from the Conference Board showing its index of U.S. leading economic indicators climbed 0.3 percent in August.
"The biggest factor for crude was the leading economic indicator data," Jason Schenker, president of Prestige Economics LLC, an Austin, Texas-based energy consultant, said and was cited on Bloomberg. "It's a fairly good proxy for how the economy is going to perform. It was significantly better than expected."
The national average for regular unleaded gasoline fell a half penny to $2.715 a gallon, according to AAA fuel data. The price is 1.9 cents lower than a week ago, 1.3 cents more than a month back, and 17.5 cents higher than the price from a year ago.
U.S. Stocks
U.S. stocks "stumbled in the final hours of a lackluster session and ended near session lows, as nervous investors weighed a surprise jump in weekly jobless claims with a better-than-expected reading on the housing market," wrote Hibah Yousuf of CNNMoney.com.
"Weakness in housing and the labor market continues to create overhead for stocks and suggests that the size of the rally we've seen this month was probably unwarranted," Len Blum, managing partner at Westwood Capital LLC in New York, said and was quoted on Reuters.
The Dow Jones industrial average lost 76.89 points, or 0.72 percent, to 10,662.42. The S&P's 500 Index declined 9.45 points, or 0.83 percent, to 1,124.83. The Nasdaq Composite Index fell 7.47 points, or 0.32 percent, at 2,327.08.