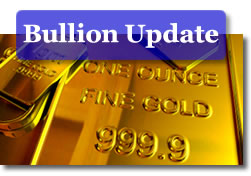 U.S. gold prices soared to an all-time high above $1,270 an ounce on Tuesday, marking the biggest daily increase in four months with a 2.0 percent increase. A falling dollar, sour European economic news and fresh safe-have buying were among the attributed factors for gold's gain.
Precious metals rallied as a group. Silver advanced 1.4 percent to its highest price since March 2008. In PGM metals, platinum jumped 2.9 percent while palladium soared 4.5 percent.
In other markets, crude oil fell for the first time in three days while U.S. stocks ended mixed. The major indexes registered narrow changes.
New York precious metals closing prices follow:
Gold for December delivery surged $24.60 to close at $1,271.70 an ounce on the Comex in New York. It ranged from $1,246.00 to $1,276.50.

December silver rose 28.1 cents to $20.432 an ounce — the highest price since March 14, 2008. It ranged between $20.030 and $20.550.

Platinum for October delivery jumped $44.50 to finish at $1,594.40 an ounce. It ranged from $1,553.30 to $1,595.90.

Palladium for December delivery soared $24.00 to $553.80 an ounce. It ranged between $532.00 and $554.45.
In notable bullion quotes of the day:
"[Investors] are just looking for a safe-haven asset as they don't think the stock market is going anywhere, and with the dollar being down, gold and silver are probably the best place to be," Michael K. Smith, president of T&K Futures and Options Inc. in Florida, said and was quoted on MarketWatch.
"People are flocking to gold out of pure confusion," Matthew Zeman, a metal trader at LaSalle Futures Group in Chicago, said and was quoted on Bloomberg. "People would rather play safe than sorry and go for gold as an insurance policy amid this mixed data on the economy."
"If there were any signs of hesitation manifest in Monday's speculative activity in gold, they certainly dissipated overnight following news reports that indicated a sharp slippage in German investor confidence," noted Jon Nadler, senior analyst at Kitco Metals, Inc. "Fears the growth is stalling and possibly turning to contraction have plagued the markets since late spring, following a slew of less-than-encouraging US economic data and the unfolding of the European debit crisis."
In PM London bullion, the benchmark gold Fix price was $1,265.50 an ounce for a pick up of $21.75 from Monday. Silver gained 38 cents to $20.310 an ounce. Platinum settled at $1,569.00 an ounce, rising $24.00. Palladium rose $22.00 to $544.00 an ounce.
In United States Mint gold coin news, higher gold prices will likely mean numismatic gold coin price increases on Wednesday. The US Mint's First Spouse Gold Coins are expected to rise by $25 each while the proof 2010 Buffalo Gold coin should increase by $50.
In bullion coin news, the Mint did not publish new sales on Tuesday, but there were increases on Monday. The latest bullion figures follow:
U.S. Mint 2010 Bullion Coin Sales
September
2010 Totals
American Eagle Gold 1 oz
28,000
833,000
American Eagle Gold 1/2 oz
1,000
35,000
American Eagle Gold 1/4 oz
2,000
50,000
American Eagle Gold 1/10 oz
15,000
340,000
American Buffalo Gold 1 oz
3,500
202,500
American Eagle Silver 1 oz
390,000
23,990,500
Oil and gasoline prices
New York crude oil for December delivery declined 39 cents, or 0.5 percent, to close at $76.80 a barrel.
"It's interesting when you see oil prices move in relation to some major indicator," Daniel Yergin, chairman of IHS Cambridge Energy Research Associates, said in an interview in Montreal that was cited on Bloomberg. "The biggest unanswered question is what happens to demand when you finally get a global economic recovery."
The national average for regular unleaded gasoline surged eight-tenths of a cent to $2.717 a gallon, according to AAA fuel data. The price is 3.5 cents higher than a week ago, 3.8 cents lower than a month back, and 14.5 cents higher than the price from a year ago.
U.S. Stocks
U.S. stocks "managed to pare some losses Tuesday on better-than-expected retail sales data, but indexes ended mixed as investors stepped back from a recent runup," noted Julianne Pepitone of CNNMoney.com.
"It's a sloppy, mixed data environment," Stephen Wood, the New York-based chief market strategist for Russell Investments, which manages $140 billion, said and was quoted on Bloomberg. "Stocks have moved pretty fast recently. The economic environment continues to be very choppy. We should continue to see volatility."
The Dow Jones industrial fell 17.64 points, or 0.17 percent, to 10,526.49. The S&P 500 Index lost 0.80 points, or 0.07 percent, to 1,121.10. The Nasdaq Composite Index added 4.06 points, or 0.18 percent, to 2,289.77.