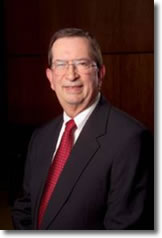 Following on the heels of a $8.57 million World Coin auction at the Boston ANA World's Fair of Money, Heritage Auctions has announced the promotion of Warren Tucker to Vice President of the World Coins division.
"Warren is one of the best known numismatists in the business and his reputation is second to none," said Greg Rohan, President of Heritage Auctions. "Under his careful watch, the World Coins category at Heritage has grown by leaps and bounds, as clearly evidenced by the recent showing in Boston. This promotion is in recognition of his tireless promotion of World Coins at Heritage."
Tucker became a full-time coin dealer in 1964. In 1968 he joined Jack Boozer and Doug Weaver in business in Waco, Texas, where he first met Steve Ivy. After moving back to Georgia, Warren became a partner with John Hamrick at WorldWide Coin Investments of Atlanta.
In the 1970s, he began more extensive travel throughout Europe and Asia to buy coins before joining forces with Steve Ivy, in 1979, and opening an office in Atlanta. Associations with noted numismatists Richard Nelson and Ronald J. Gillio followed thereafter. From 1985 TO 1995 spent a great deal of time in the Orient, with extended stays in Hong Kong, Thailand, Singapore, and the Philippines. Tucker moved to Dallas in 1999, where he lives today, working at Heritage headquarters.
"Working with Warren on a daily basis is like getting free tuition at 'Numismatic University,'" said Cristiano Bierrenbach, Vice President of International Numismatics at Heritage. "There are but a handful of numismatists worldwide with his experience and knowledge of world coins. He's also one of the most well-liked and respected coin professionals in the market."
During his tenure at Heritage, Warren has been instrumental in the consignment and subsequent auction of numerous International numismatic rarities and collections that have realized World Record prices. He is a lifetime member of PNG.
With Tucker as the primary world coin expert since the World Coin Department's inception as a separate entity at Heritage in 2000, Heritage has grown to be one of the worldwide leaders in world coin sales.
"I'm fortunate to be able to work every day in a field that I love, for a company that I'm dedicated to and with colleagues that I very much respect," said Tucker. "I look forward to continuing my work at Heritage in keeping it the World's premier rare coin auctioneer."
About Heritage Auctions
Heritage Auctions, headed by Steve Ivy, Jim Halperin and Greg Rohan, is the world's third largest auction house, with annual sales more than $600 million, and 500,000+ registered online bidder members. For more information about Heritage Auctions, and to join and gain access to a complete record of prices realized, along with full-color, enlargeable photos of each lot, please visit HA.com.