Part of Bowers and Merena Auctions' $9.2 Million Boston Rarities Sale
Bowers and Merena Auctions, one of the world's pre-eminent numismatic auctioneers, hosted its Boston Rarities Sale on Saturday, Aug. 7 at Park Plaza Hotel and Towers in Boston, Mass., where the featured coin, a rare 1794 Silver Dollar, was sold for $1,207,500.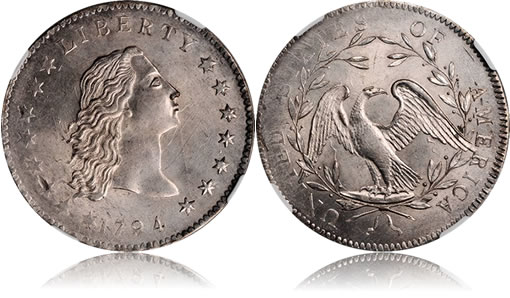 The Bowers and Merena August Boston Rarities Auction featured this Virgil Brand-F.C.C. Boyd-Cardinal specimen of the 1794 Flowing Hair Silver Dollar which sold for $1.2 Million. Certified MS-64 by NGC, the coin is Condition Census #4 for the issue. Even most problem-free 1794 Flowing Hair Dollars that have survived did so only after acquiring some degree of wear. Only six coins, in fact, are universally recognized by numismatic experts as Mint State 1794 Silver Dollars. (Click image to enlarge)
"There has been great anticipation within the industry for our auction of the condition census #4 1794 Silver Dollar," said Greg Roberts, CEO of Bowers and Merena.
"We started to see bidding activity about two weeks before the live action began with multiple bidders moving the coin from its opening bid to $750,000 where the lot opened on the live auction floor. It then quickly moved up $300,000 at increments of $50,000. When the bid hit $1 million on Saturday, the gasp from the crowd was riveting, and with two of the four bidders live in the room, the intensity was overwhelming."
The seller of the rare coin, Martin Logies, author of the book The Flowing Hair Silver Dollars of 1794 and director and curator of CCEF, recently purchased the Neil/Carter/Contursi 1794 Flowing Hair silver dollar for $7.85 million in a private transaction brokered by Spectrum Group International, Bower and Merena Auctions' parent company. The sale marked a new world record price and the coin is currently being showcased by CCEF, a teaching organization, and is being shared with a wider national audience.
The silver dollar first struck in 1794 and was intended to replace the Spanish, English, Dutch and French coins that dominated local commerce. Only 140 surviving examples of the 1794 silver dollar coin are estimated throughout the world.
"Bowers and Merena welcomes the opportunity to be a part of transactions like the auction just completed for Martin Logies," said Roberts. "Not only are these coins a marquee attraction for collectors around the world, but highly visible auctions like the one we just hosted in Boson on Saturday, raise awareness to an audience that might not be familiar with the history and value of these rare coins."
Bowers and Merena hosts its next auction at the Baltimore Coin and Currency show in November which will feature U.S. coins and paper money, as well as world and ancient coins and paper money. Many coin enthusiasts are anticipating Bower and Merena's upcoming auction in Hong Kong this December, where an assortment of rare coins from China and Hong Kong will be auctioned from the Wa She Wong collection.
For a complete list of coins that will be featured at upcoming Bowers and Merena Auctions, visit the firm's Web site at www.bowersandmerena.com or call toll-free at 800-458-4646.
About Bowers and Merena Auctions
Bowers and Merena Auctions was founded in 1983 and has grown to become one of the world's preeminent numismatic auctioneers with more than half a billion dollars in rare coin and currency sales. They continue their service as Official Auctioneer of the Whitman Coin & Collectibles Baltimore Expos three times every year.
Bowers and Merena has handled four of the five most valuable United States coin collections ever sold, including the Louis E. Eliasberg Sr. Collection, the Harry W. Bass Jr. Collection, the Garrett Collection for The Johns Hopkins University and the Norweb Collection. In 2008, Bowers and Merena Auctions acquired Ponterio & Associates, Inc., which now serves as Bowers and Merena's auction division for world and ancient coins and currency. Bowers and Merena Rare Coin Galleries offers direct buying and selling of exceptional quality gold and silver rare coins.
For more information about Bowers and Merena and Ponterio & Associates, or to consign to an upcoming auction, call 800-458-4646. For media inquiries, ask for Senior Numismatist Steve Deeds or Executive Vice President Rick Ponterio. Complete prices realized for all past auctions are available at www.bowersandmerena.com.
Safe Harbor Statement
Statements in this press release that relate to future plans, objectives, expectations, performance, events and the like are "forward-looking statements" within the meaning of the Private Securities Litigation Reform Act of 1995 and the Securities Exchange Act of 1934. Future events, risks and uncertainties, individually or in the aggregate, could cause actual results to differ materially from those expressed or implied in these statements.
Factors that could cause actual results to differ are identified in our public filings with the Securities and Exchange Commission (SEC), and include the fact that we have disclosed that you should not rely upon our previously published financial statements and the fact that we have not filed all of our reports required by the Securities Exchange Act of 1934. More information about factors that could affect our business and financial results included in our public filings with the SEC, which are available on the SEC's website located at www.sec.gov.
The words "should," "believe," "estimate," "expect," "intend," "anticipate," "foresee," "plan" and similar expressions and variations thereof identify certain of such forward-looking statements, which speak only as of the dates on which they were made. Additionally, any statements related to future improved performance and estimates of revenues and earnings per share are forward-looking statements. We undertake no obligation to publicly update or revise any forward-looking statements. Readers are cautioned not to place undue reliance on these forward-looking statements.