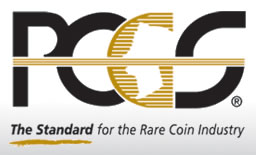 The Professional Coin Grading Service eStore (www.PCGS.com/store) now is accepting PayPal as payment for purchases of PCGS products and services.
The eStore offers Collectors Club memberships, subscriptions to PCGS CoinFacts™ and the PCGS Online Population ReportSM as well as hobby supplies.
"We are committed to the best customer service possible. PayPal is a convenient, widely used system for online transactions, and now PCGS customers in the United States and around the world who have PayPal accounts easily can order and pay online when purchasing from the PCGS eStore," said Don Willis, President of PCGS, a division of Collectors Universe, Inc. (NASDAQ: CLCT).
PCGS offers three levels of annual Collectors Club memberships, Silver, Gold and Platinum, priced at $49, $129 and $199 respectively, and each includes a one-year subscription to the PCGS Population Report and direct submission privileges. Separate subscriptions to the PCGS Online Population Report are $4.95 a month. PCGS CoinFacts is the most comprehensive encyclopedia of U.S. coins on the Web, and a subscription is currently only $9.95 per month. Hobby supplies available at the eStore include Mylar® coin flips and the popular, sturdy blue-colored plastic storage boxes for PCGS encapsulated coins.
An eBay company, PayPal has more than 221 million active accounts in 190 markets and 24 currencies around the world. The service allows PayPal members to send money without sharing financial information, and allows them the flexibility to pay using their account balances, bank accounts or credit cards.
There is no fee for obtaining a PayPal account. To sign up, go to www.PayPal.com.
Since 1986, PCGS experts have authenticated, graded and certified more than 20 million coins from around the world with a declared value of over $20 billion. For additional information, visit www.PCGS.com or call PCS Customer Service at (800) 447-8848.