Appearing as the third proof issue from the Perth Mint of Australia in its internationally acclaimed Australian Koala Gold Coin Series is the 2010 Koala Gold Proof Coin.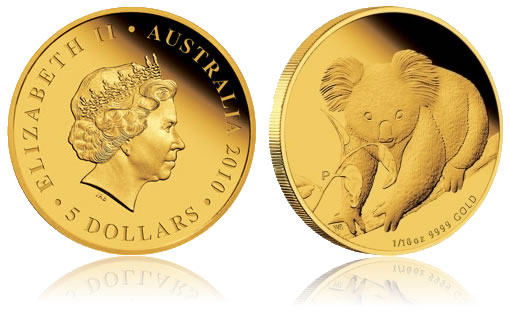 Koalas have long appeared as an iconic symbol for Australia along with their other famous marsupial, the kangaroo. Together, the creatures have graced strikes of the Perth for years, but the Proof Koala Gold Coin only made its debut in 2008.
That year, an image of a cuddly koala sitting on a tree branch with its young clinging to its back was featured on the coin. In 2009, the Perth used an image of a koala sitting on a branch holding onto another branch with its front paws and looking out towards the holder of the coin.
Koalas are unique to Australia and spend most of their lives high up in the Eucalyptus trees eating vast amounts of leaves. These leaves are toxic to most creatures but the koalas have adapted. Unfortunately, they had a harder time adapting to the intrusion of man and were hunted almost to extinction for their fur before a law was created to prevent their destruction.
Australian Koala coin design, specifications, and order information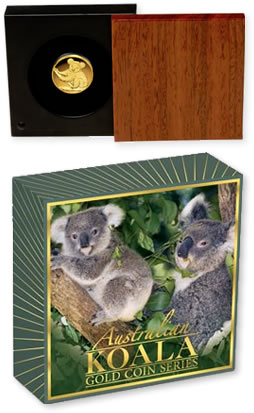 This unique coin is struck by The Perth Mint in four different sizes — 2 oz, 1 oz, 1/10 oz and 1/2 oz with face values listed at AUD $200, $100, $15 and $5, respectively. Of course, the coins' intrinsic value is worth much more than their face value.
Of note, the 1 oz coin is struck in high relief on a thicker blank to allow for greater detail.
Each coin is considered legal tender under the Australian Currency Act of 1965 and contains a portrait of Her Majesty Queen Elizabeth II of England on its obverse. The portrait is the work of Ian Rank-Broadley.
The annually changing reverse design this year features a young koala clinging to a small tree branch as it eats the gum leaves. The historic 'P' mint mark is also seen on the reverse along with the coins size and "9999 GOLD." Wade Robinson is the artist of record for this koala design.
The Perth houses each coin in a custom luxury presentation case with a jarrah timber lid. They are then shipped with a numbered Certificate of Authenticity in an illustrated shipper.
2010 Australian Koala Gold Proof Coin Specifications by Size

2oz
1oz
1/10oz
1/25oz
Gold Content (Troy oz)
2
1
1/10
1/25
Denomination (AUD)
200
100
15
5
Fineness (% purity)
99.99
99.99
99.99
99.99
Minimum Gross Weight (g)
62.215
31.107
3.111
1.244
Maximum Diameter (mm)
40.6
27.3
16.1
14.1
Maximum Thickness (mm)
3.9
4.5
1.5
1.4
Mintage Limits
250
2000
5000
15000
The 1/10 oz and 1/25 oz Koala Gold Proof Coins are available directly from The Perth Mint via this CoinNews affiliate link:


Australia 2010 Koala Gold Proof Coin Series from The Perth Mint
The larger 1 oz and 2 oz coins are only available from Perth Mint authorized vendors.
About the Perth Mint
The Perth Mint, wholly-owned by the State Government of Western Australia, is the official issuer of the Australian Federal Government's Gold and Silver Bullion Coin Program. The Mint opened in 1899 in response to the discovery of rich gold deposits in Coolgardie and Kalgoorlie. It was Australia's third branch of Britain's Royal Mint – the others being the Sydney Mint and the Melbourne Mint (both closed).
The Perth Mint remained under Britain's jurisdiction until 1 July 1970, when ownership transferred to the State Government of Western Australia.
In 2003, The Perth Mint officially opened an 8,400 square metre state-of-the-art manufacturing facility next door to its original limestone building. Dominating the Mint's heritage precinct, these two important buildings are powerful symbols of more than 100 years of minting excellence in Western Australia.