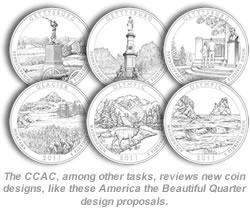 The United States Mint has issued an advisory notifying the public and media that the Citizens Coinage Advisory Committee (CCAC) will meet in Colorado Springs, CO, on Monday, June 28, 2010.
Up for discussion includes topics relating to:
2010 Annual Report
Coin design quality
Commemorative coins programs for the next five calendar years (read about upcoming commemorative coins)
The meeting will be held between 6:30 p.m. to 9:00 p.m. Mountain Time on the Colorado College. Location details follow:
Gaylord Hall, in the Worner Center, on the campus of Colorado College
902 N. Cascade Ave.
Colorado Springs, CO, 80903
The public and news media are invited to attend. (The U.S. Mint indicates that interested persons should call 202-354-7502 for the latest update on meeting time and room location.) Additionally, the CCAC will hold a public forum prior to the meeting.
The Citizens Coinage Advisory Committee (http://www.ccac.gov) was created to advise the Secretary of the Treasury on the selection of themes and design proposals for circulating coinage, commemorative coins, bullion coinage, Congressional Gold Medals and other medals.
The CCAC also advises the Secretary with regard to the events, persons, or places to be commemorated by the issuance of commemorative coins, as well as the mintage levels and proposed designs of commemorative coins.
The CCAC is composed of 11 members: one specially qualified in numismatic collection curation; one specially qualified in the medallic arts or sculpture; one specially qualified in American history; one specially qualified in numismatics; three individuals representing the interests of the general public; and four individuals recommended by the Leadership of both the House of Representatives and Senate. CCAC members serve terms of four years and are Special Government Employees; therefore, they are subject to various applicable conflict of interest laws and ethics regulations.