U.S. silver bullion coin purchases soared last week and have blasted off in May, with the United States Mint selling American Silver Eagle coins at nearly twice their average rate.
Silver Eagle Monthly Sales: Jan. 2008 – May 14, 2010
Silver prices hit highs during the second week of May that had not been seen since March 2008. That translated into bursting eagle demand, with 1,005,500 ordered between Monday and Friday.

| | |
| --- | --- |
| | Total May Sales |
| Friday, May 7, 2010 | 892,000 |
| Monday, May 10, 2010 | 1,478,500 |
| Tuesday, May 11, 2010 | 1,478,500 |
| Wednesday, May 12, 2010 | 1,508,500 |
| Thursday, May 13, 2010 | 1,872,500 |
| Friday, May 14, 2010 | 1,897,500 |
The .999 fine silver coins have reached 1,897,500 through to the first 14 days of May, and are 7,001 shy short from topping an all-time May record.
American Silver Eagle Sales in May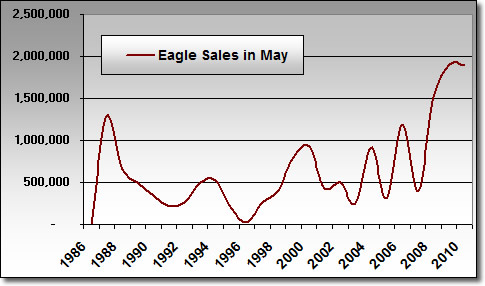 *As of May 14, 2010
If demand for the eagles continues at the current pace, more than 15.3 million will be sold through the first five months of 2010, breaking last year's record starting performance over the same time period by more than 3.7 million. The U.S. Mint has been selling them nearly as fast as they can be produced, with year-to-date figures now at 13,428,500.
Total Silver Eagle Sales: January – May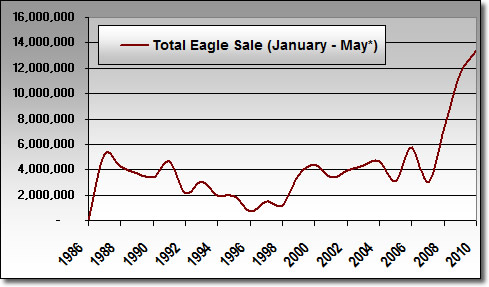 *As of May 14, 2010
Adolph A. Weinman's 1916 "Walking Liberty" half dollar was used as the original obverse design for the American Silver Eagle. It features Lady Liberty walking while holding an olive branch. John Mercanti designed the original for the reverse which shows a Heraldic Eagle and shield.
The American Eagle Bullion program was launched in 1986. Unlike its numismatic or collector products, the Mint sells bullion eagle coins for a small amount over the current precious metals' spot price and only to a small network of authorized purchasers. These buyers in turn resell the eagles to coin dealers, precious metal providers and/or directly to the public.