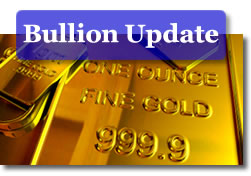 Extra! Extra! Read All About It!
Good Morning,
Europe's continuing crisis of confidence undermined the region's common currency once again overnight and had it breaking the 1.25 level (and crashing to a 17-month low) as aggressive sellers tested the political will of its stewards. As such, not much in the way of a unified 'will' was to be gleaned from reports that France's Mr. Sarkozy had to use threats of leaving the union last Friday in order to extract commitments from other members to come the aid of Greece.
Thus, here we are, less than one week after the joint announcement of a package, with a euro trading below its levels of prior to the same. The scope and size of the package appear not to faze the 'wolfpacks' and Europe's leaders might now need to resort to something with a lot more mega-tonnage of an effect in their arsenal. Germany's Ms. Merkel painted the euro situation as something 'existential.'
Former Fed Chairmen Messrs. Volcker and Snow chimed in and underscored such a threat while suggesting that consolidation and integration – on all fronts (tax, fiscal, perhaps even political) is required at this juncture, as there was apparently no smoke detector for such an event installed at the inception of the union.
Incessant market chatter about the potential breakup of the euro buffeted markets overnight, sending overseas stocks (and US stock futures) lower on concern that such a dis-integration could impact the global recovery. Now, to be sure, there is an ocean of difference between trading room talk and the viral nature of Internet urban myths propagated by ill-informed sources. Last night, one such media 'outlet' got the idea that somehow Germany is exiting the EU and reinstating the Deutschemark. At the center of such conjecture? A long-mothballed Kitco webpage. Such nonsense prompted our Media Director to issue a formal statement to debunk them. Thus, if you run across this type of science-fiction in your Google queries today, you may safely disregard them. Certainly some newsletter vendors will have a field day with this one. Too bad for their readers. Here is what Kitco's Media Director had to say about the matter:
"It has come to our attention that a long-decommissioned and inactive Kitco Metals webpage has been referred to by certain non-mainstream Internet media. The page was used as evidence to support a rumor that Germany might be leaving the European Union and reintroducing the former Deutschemark as its national currency once again. Please note that this inactive Kitco webpage is at least eight years old. Any Internet-based conjecture regarding Germany leaving the EU is simply misleading.
Kitco prides itself on our reputation of delivering live current accurate and reliable quotes and charts for all precious metals and currencies. We are the most widely quoted source for precious metals information today and providing accurate information is our highest priority. We are pursuing an investigation into how, and why, such a long-archived sub-page of the site resurfaced and was used to propagate inaccurate information. We apologize for the inconvenience it may have caused and offer our assurances that we take this matter seriously."
Friday's opening in the metals markets picked up on the overnight theme of turmoil and opened with solid gains in gold and silver but lost ground in the noble metals niche. Spot gold started off with a $14 gain at $1247.60 in an attempt to revisit the overnight record of $1250.40, while silver added 16 cents to open at $19.59 the ounce. Platinum fell $14 to $1717.00 while palladium dropped $7 to $531.00 per ounce. For yet another day, rhodium showed no movement. Yet another pre-Akshaya Tritiya gold buying day that showed no signs of urgency to beat a path to the gold bazaars unfolded in India overnight. Sunday is "G" day.
The initial action unfolded against further US dollar gains on the index (now at $85.62) – something against which none of the greenback's 2009 morticians appear to be very vocal at this time. The motto is 'we'll take whatever makes gold go up. It is now time to bury the euro. But, wait, there is more! The dollar will die too. Paper currencies as so…20th century.' No timeframes were on offer, as usual.
Crude oil fell once again; reaching the $73.25 level early on, while the euro – well, the best thing one could say about it is that it was last seen at just a fraction under $1.25 and that is was likely hoping for an announcement – any announcement – that might bring it out of its swoon. US retail sales rose for a seventh straight month, helping Dow futures regain some composure, however the euro-centric angst will be the defining agent as action gets underway later on today.
Finally today, here is something you did not expect to ever see mentioned within these columns: a certain acronym. However, news is news. Here is one heckuva juicy news bit for a certain segment of the gold-oriented audience to bite into over the weekend, if you are up at that hour, courtesy of Kitco News:
"CPM Group New York's Mr. Jeffrey Christian is hoping to clear the air tomorrow (12 AM PDT, 3 AM EDT) and clarify his stand on gold market manipulation in a debate with GATA's Bill Murphy. The debate, moderated by Jim Puplava of Financial Sense Newshour, will air both on kitco.com and financialsense.com.
Puplava wanted to help settle the rumors that Christian said the gold market was leveraged 100 to one during the Commodity Futures Trading Commission (CFTC) hearings back in March. Christian said that the paper market is 100 times the size of the physical market — this was misinterpreted by many, said Puplava.
"We wanted to calm investors' fears about keeping money in storage with a bullion vault," said Puplava in an interview with Kitco News. "We also wanted to address the issue of gold manipulation, just because the gold market is down doesn't mean there is a conspiracy behind it," he said.
As for what he hopes to accomplish with the debate, Puplava said, "if you are in the conspiracy camp, you will probably stay in that camp. If you are a seasoned investor, I think the clarity of facts will be more appealing. And if you are undecided, at least now you will have more information at your disposal."
The CFTC hearings were originally held in part because of long-term complaints from organizations such as the Gold Anti-Trust Action Committee (GATA) that said the gold and silver commodity markets have been subject to extensive price suppression manipulation by the U.S. government and its trading partners.
The Great Gold Debate – Gold market manipulation or general market forces – You Decide will air May 15, 2010 at 3 am EDT (12 AM PDT) on www.kitco.com and http://feeds.feedburner.com/fsn
Happy Trading and A Sunny Weekend. Enough announcements and press releases for now.
Jon Nadler
Senior Analyst
Kitco Metals Inc.
North America
Websites:
www.kitco.com
and
www.kitco.cn
Blog:
http://www.kitco.com/ind/index.html#nadler
---
In addition to bullion American Silver Eagles that are already available, the United States Mint this year will also issue 5 oz. bullion America the Beautiful Silver Coins that are duplicates of the America the Beautiful Quarters. The first of five coins will be released this summer, with the remaining four to follow in short intervals. Check the above link to visit a sister site to CoinNews for more information on the series.