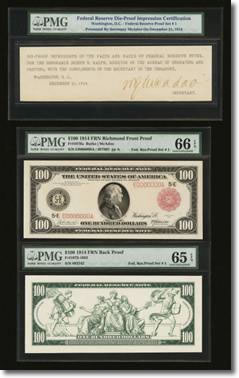 DALLAS, TX — Heritage Auction Galleries will offer the 1914 Federal Reserve Proofs Presentation Set Number 1 in its upcoming Signature® Currency Auction, held in conjunction with the Memphis International Paper Money Show, June 17-19. It is estimated at $60,000+.
The set consists of 10 pieces: a Richmond district front of each of the five denominations along with a back for each of the five denominations.
The notes have all been certified and encapsulated by PMG.
The card that accompanied the set when it was presented to the Honorable Joseph E. Ralph, Director of the Bureau of Engraving & Printing, by Treasury Secretary McAdoo on December 21, 1914 is also contained with the lot.
Additionally, a copy of a letter dated Oct. 28, 1914 is included. The letter from Director Ralph informed McAdoo that the first Federal Reserve Notes would bear the "Richmond Federal Reserve District" seal.
"On Dec. 23, 1913, President Woodrow Wilson signed the Federal Reserve Act, which transformed the American monetary system and is now about to celebrate its 100th birthday," said Allen Mincho, Director of Currency Auctions at Heritage.

"Soon after that signing Joseph E. Ralph, the Director of the Bureau of Engraving and Printing, was assigned the task of designing and producing the new Federal Reserve Notes."
During the next year, various prototype designs were produced until a standardized design was finalized in the fall of 1914. As a part of the design process, a small quantify of Proof examples were produced.
These Proofs were printed from the actual currency plates on to card stock, with the Treasury seal and the all zero serial numbers glued on by hand by the pressman. On the back of each Proof the official "Proofing Room" number was imprinted in light blue ink.
Gene Hessler, in his book U.S. Essay, Proof & Specimen Notes, states that the 1916 "Annual Report of the Bureau of Engraving & Printing" notes that only two complete sets of Proofs were produced, although it is likely that either two more sets were unofficially created or that other Proofs were combined to make at least two more sets, as four complete sets are said to exist today.
Neither the Smithsonian nor any of the Federal Reserve Bank branches, or their headquarters in Washington, D.C., contains any items comparable to this first presentation set in their collections.
Heritage Currency Auctions is currently accepting consignments for the ANA Boston Signature Currency Auction that will be held August 11-13, 2010 in Boston, MA. The consignment deadline is June 18, 2010. Please call 800-872-6467, ext. 1001 for more information.
About Heritage Auctions
Heritage Auctions, headed by Steve Ivy, Jim Halperin and Greg Rohan, is the world's third largest auction house, with annual sales more than $600 million, and 500,000+ registered online bidder members.
For more information about Heritage Auctions, and to join and gain access to a complete record of prices realized, along with full-color, enlargeable photos of each lot, please visit HA.com.