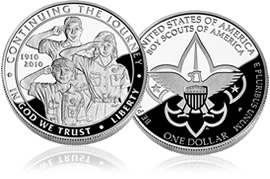 The United States Mint today released the first set of opening sales figures for the 2010 Boy Scouts of America Centennial Silver Dollars.
The new commemorative coin sales numbers follow the announcement by US Mint Director Moy that total sales reached 200,000 between their release last Tuesday, March 23, to Saturday morning, March 27. Then, Mr. Moy did not reveal the exact sales count, nor the breakout of how many were sold between the proof and uncirculated versions.
The latest figures shows 214,673 have been sold, with 144,732 proof and 69,941 uncirculated. As is typical with the US Mint weekly sales report, the "as of date" is Sunday.
The law authorizing the Boy Scouts coins (Public Law 110-363) permits a maximum mintage of 350,000. The Mint has placed a household order limit of 100 in place.
The limit, in part, has helped the silver dollars thrash past commemorative coin opening performances — even the 2009 Lincoln Bicentennial Silver Dollars which eventually sold out with a higher 500,000 total mintage. However, there has a been a buzz around the Boy Scouts silver dollars ever since the legislation was first introduced on April 22, 2008, to strike them. Many millions of Americans have some sort of history with the Boy Scouts of America (BSA), with the organization having some 2.8 million youth members alone today.
Customers may order the proof and uncirculated coins at the United States Mint Web site, http://www.usmint.gov/catalog, or at their toll-free number, 1-800-USA-MINT (872-6468).
The introductory price for the proof coin is $39.95 while the uncirculated option is available for $33.95.