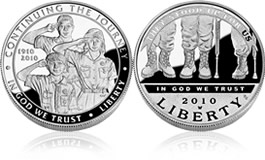 The United States Mint has announced that it will offer 2010 Boy Scouts Silver Dollars and other collector products at the American Numismatic Association's 2010 National Money Show™, March 25-27 at the Fort Worth Convention Center.
The commemorative Scouting coins are struck in proof and uncirculated condition and have respective introductory sale prices of $39.95 and $33.95.
The silver dollars are also available at the US Mint Web site (http://www.usmint.gov) beginning Tuesday at 12:00 noon ET.
The Mint indicated the commemorative Disabled Veterans Coins, which were released on February 25, 2010, will also be for sale at the show, as will the following previously released products:
2009 US Mint Proof Set
2009 US Mint Silver Proof Set
2009 US Mint Uncirculated Coin Set
2009 Lincoln Bicentennial One-Cent Coin Two-Roll Sets — "Professional Life" and  "Presidency"
2010 Native American $1 Coin Rolls (P and D)
Assorted 2009 District of Columbia and U.S. Territories Quarters Program products
Assorted Presidential $1 Coin products, including the 2010 Presidential Dollar Proof Set
Assorted bronze medals honoring first spouses, Senator Edward William Brooke III, Abraham Lincoln, Tuskegee Airmen, Dalai Lama, Navajo Code Talkers and others
The Mint will be located at booth #115.
Additionally, the Mint will host a Coin Collectors Forum at 11 a.m. on Saturday, March 27, where attendees are encouraged to ask questions and provide feedback about American coinage.