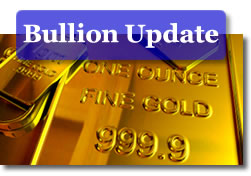 Der Wiener Walzer Moves Counter-Clockwise
Good Day,
Gold prices slipped a bit in overnight trading amid anemic Indian physical offtake and a further gain in the US dollar. The latter managed a climb back to very near the 80.50 mark on the trade-weighted index and pushed oil, base metals, and assorted other commodities a tad lower. The euro once again slid back towards the 1.35 value zone as no news of any resolution to the Greek problem was on tap for yet another day.
Greece is still pedaling hard to obtain a clear promise of aid from the EU, but Germany continues to be holding out on the matter, and 'confusion' is being expressed by other members of the eurozone. It was suggested yesterday that Greece should perhaps try to get a lifeline from the IMF. Bond investors are still demanding that Greece pay three percentage points more than Germany on its 10-year debt, and the country's Prime Minister warned that Greece can't "afford to hold out much longer at current market rates."
New York spot gold dealings opened the final session of the week with a $3.80 loss, quoted at $1122.10 bid per ounce, as against the aforementioned stronger dollar and amid thin participation. From a technical perspective, gold is facing few immediate pressures, traders said. "Gold is looking very ordinary near the middle of our multi week range of $1,099 to $1,145," Scotia-Mocatta analysts wrote in their morning note.
Silver started the day with a drop of ten cents per ounce, quoted at $17.29 while platinum lost $9 to start at $1619.00 the troy ounce. Palladium fell $2 to open at $474.00 and there was no change reported in rhodium following yesterday's additional $10 decline that brought it to $2370.00 bid per troy ounce.
Where book-squaring might lead to in terms of the final settlements for the day remains unclear, but the complex has been tracking the euro closely enough for participants not to get too excited about the potential for a major upward push at this juncture. Barring, of course, some market-moving news out of Europe, or elsewhere… The 'action' is almost all over there (and of course in the currency pits) for the moment.
As such, that on-going decisive condition was amply made clear in the mid-morning gold slump that brought it down to the $1103.00 level. The US dollar surged to 80.73 on the index on perceptions that the Fed may yet raise the discount rate before its very next meeting, due on April 28. India unexpectedly hiked its interest rates after local inflation hit a sixteen-month high. India (and soon China) is seen as now exiting the period of exceptional rate accommodation that followed the global economic slump. Mexico left interest rates unchanged this morning.
In any case, the bold predictions made by some observers earlier this week that gold will undoubtedly challenge the $1140/$1145 mark by this week's end have run into…dollar difficulties. Hopefully, the sharp decline we are seeing in gold prices today will engender some revived quest for bullion in India, come this weekend. Unless the locally higher interest rates now pose some competition to the yellow metal. Weddings are weddings, we say, and we would expect a decent number of pending orders to be filled over the next few days.
Meanwhile, an unnamed senior official at the World Gold Council said yesterday that global gold demand is expected to rise in 2010 after a sizeable 11% fall last year. The WGC expects the economic recovery to drive (revive, is more like it; such demand fell to a 21-year low in 2009) jewelry demand and fuelling investor appetite for bullion. We are not so sure about the latter, however. Much depends on the big gorilla in the investment room- ETFs- which has been in hibernation mode for the better part of nine months now. As for the man in the street 'stacking' coins without pause in the conviction that Armageddon (or at least the Weimar Republic) is imminent? Well, read on…
Back on October 29 of last year, these columns posed the following question, in the aftermath of an announcement from Vienna's Austrian Mint: "Next, what market (and marketing) signals are coming from Vienna's Austrian Mint? I will say, level-headed ones, but…I will, let Bloomberg fill you in on the latest, as it reports that: "the world's largest marketer of pure gold coins, plans to slash output by 32 percent next year from a record, forecasting the end of the financial crisis will weaken investor demand." Of course, the rhetorical question was met with howls of disbelief and accusations of "fear-mongering" from certain camps. Bullion bullies were quick to dismiss the news as rubbish and ordered their audiences to back up the Mack truck.
Cut to March 19, 2010. That's today. Said Bloomberg this morning:
"Muenze Oesterreich AG, the Austrian mint that makes the best-selling gold coin in Europe and Japan, said sales have fallen 80 percent this year after buyers began to regain confidence in the global economy. "We're getting back to business as usual rather than the hectic, panic demand we've seen over the last couple of years," Vienna-based Marketing Director Kerry Tattersall said late yesterday in an interview.
"There's no more upward surge in gold price to titillate buyers," said Mr. Tattersall, who retires this year after more than two decades with the mint. "A lot of people feel more relaxed about the economic crisis." For the whole of 2010, Tattersall said he expects the mint's sales to fall to 2006 levels, without providing figures. Austria's mint says it supplies about a fifth of the global gold-coin market and makes about half of all gold coins sold in Europe."
Let's consider that case closed for now. Whether it amounts to 350,000 or (more likely 600,000+) ounces sold, the fact remains that the Mint's sales levels are returning to pre-crisis levels, that there are no coin shortages out there, and that last year's strategic decision to cut output may have been taken with foresight.
Have a pleasant weekend. Spring will spring upon us tomorrow. It cannot come soon enough.
Jon Nadler
Senior Analyst
Kitco Metals Inc.
North America
Websites:
www.kitco.com
and
www.kitco.cn
Blog:
http://www.kitco.com/ind/index.html#nadler
---
Check out other site market resources at Live Gold Spots, US Silver Coin Melt Calculator and American Silver Eagles.