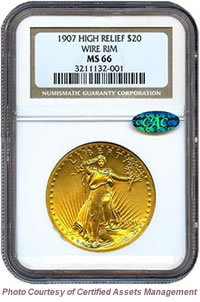 Change may be in the air at one or more coin grading services, but dealers, collectors and investors will find business as usual at Certified Acceptance Corp. (CAC).
That's the company's message to the hobby in the wake of reports that at least one of the two largest grading services is considering the establishment of "premium-quality" grade designations.
CAC examines and evaluates coins that have been certified by either the Professional Coin Grading Service (PCGS) or the Numismatic Guaranty Corporation of America (NGC).
It then affixes a distinctive green sticker to the holder of each coin which, in its judgment, fully merits the grade that was assigned. Each sticker incorporates a tamper-evident hologram.
According to Albanese, CAC will continue to evaluate submissions, and determine whether to award stickers to those coins, strictly in the context of the basic numerical grades assigned by either PCGS or NGC. He said it will disregard any additional descriptive words or symbols.
"We don't want buyers and sellers to get the impression that by stickering a coin, CAC is confirming someone else's 'PQ' designation," Albanese said.
CAC makes a market in coins that it has stickered, and its disregard of PQ-type designations will be reflected in its buying and selling prices.
"For example, CAC's bid price for an 1892-O Barber quarter graded MS65 is $1,150," Albanese said. "If the coin was graded PQ and had a CAC sticker, our buy price would remain the same — $1,150. If it had a star plus our sticker, we'd still pay $1,150. And if it came with an asterisk or a rainbow or a halo, we'd still pay $1,150 – as long as it had a sticker."
Since opening for business in late 2007, CAC has received more than 144,000 submissions from member dealers and collectors, and has awarded green stickers to just over 68,000 of these. The declared insurance value of these coins totals about $800 million.
To date, the company has bought and sold CAC-stickered coins with a wholesale trading volume of nearly $150 million.
Further information about CAC, including directions on how to apply for membership and where to obtain CAC-stickered coins, can be found at the company's Web site, www.caccoin.com.
About CAC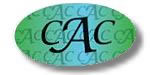 Certified Acceptance Corporation (CAC) was founded by leading members of the numismatic community, including John Albanese, a respected authority on coin grading and the rare coin market.
Due to today's selective collector/dealer, an ever increasing number of certified coins on the market are considered low end for their grade. CAC holds coins to a higher standard. CAC verifies previously graded coins and awards a sticker only to those coins that meet the standard for today's sophisticated buyer.