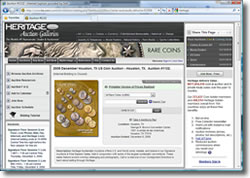 World's largest collectibles auctioneer announces contest to celebrate half-million member milestone
DALLAS, TX — The advance at Heritage Auctions to a collecting community of a half million website members at HA.com continues steadily, with the target in sight within the next few weeks.
To celebrate this momentous digital occasion, Heritage is offering whoever becomes the 500,000th member a special one-time buyer credit of 500,000 cents ($5,000) in one of any of its 29 venues.
"HA.com is the leading website in the auction business, and our ever-expanding member base proves that," said Greg Rohan, President of Heritage Auctions. "We want to celebrate 500,000 members and turn our 'sites' on 1,000,000."
Register to become a member at HA.com, it's fast, easy and free. The 500,000th member, in order to collect the contest credit, must grant Heritage permission to announce their name, along with the city and state they live in. Heritage employees, and family members of Heritage employees, are not eligible.
About Heritage Auctions
Heritage Auctions, headed by Steve Ivy, Jim Halperin and Greg Rohan, is the world's third largest auction house, with annual sales more than $600 million, and 500,000+ registered online bidder members. For more information about Heritage Auctions, and to join and gain access to a complete record of prices realized, along with full-color, enlargeable photos of each lot, please visit HA.com.
Want to get the up-to-the-minute updates and breaking news stories about Heritage Auctions? Get them as they happen at: Twitter.com/HeritagePress; Twitter.com/JimHalperin; Facebook: Heritage Auction Galleries.