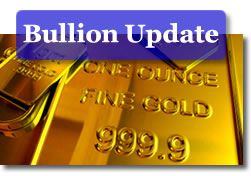 US gold futures finished higher Wednesday, rebounding from a seven-week low with the help of a falling dollar. The greenback retreated following news of weaker than expected new home sales. Silver and platinum advanced as well while oil jumped more than 3 percent to above $76 a barrel. US stocks rose slightly.
New York precious metal figures follow:
Gold for February delivery rose $7.30, or 0.7 percent, to $1,094.00 an ounce. It ranged from $1,080.10 to $1,096.80.

Silver for March delivery climbed 16 cents, or 0.9 percent, to close at $17.190 an ounce. It ranged from $16.870 to $17.245.

January platinum jumped $29.90, or 2.1 percent, to end at $1,426.80 an ounce. It ranged from $1,390.00 to $1,428.10.
In PM London bullion, the benchmark gold price was fixed earlier in the day to $1,085.25 an ounce, which was an increase of $1.25 from Tuesday. Silver fell 3 cents to $16.920 an ounce. Platinum was settled at $1,399.00 an ounce, falling $11.00.

Notable bullion quotes follow:
"The gold moves are all related to the dollar," Lannie Cohen, the president of Capitol Commodity Services Inc. in Indianapolis, said on Bloomberg. "The dollar had been strong for a few weeks now, putting a cap on prices. If this is the end of that rally, then gold will start to move higher again."
"Book closing and weak physical demand, combined with the selling pressure building up in charts are restricting fresh investments," Pradeep Unni, senior analyst at Richcomm Global Services, said on Reuters. "A year-end price closing in the range of $1,050-1,055 is quite likely."
"Gold prices steadied a bit overnight as mild bargain hunting emerged on the back of the renewed decline," wrote Jon Nadler, senior analyst at Kitco Metals, Inc. "The current correction, however, could drag prices to levels anywhere between $1,030 and $1,060 if selling patterns re-emerge." [Read Nadler's full commentary.]
Gold, considered a hedge during times of high inflation and economic uncertainty, tends to follow oil and move opposite to the U.S. dollar. A rising greenback makes dollar-denominated commodities, like bullion, more expensive for holders of other world currencies.
For the latest news on American Eagle bullion availability, as the United States Mint told its authorized purchasers on Tuesday, read about American Eagle Gold and Silver bullion coins for sale on Jan. 19. Additionally, and more on the numismatic level, the US Mint revealed 2010 First Spouse Gold designs on Wednesday. The 24 karate gold coins mark the fourteenth through the seventeenth to be issued in the series which began in 2007.
Oil and gasoline prices
Crude oil prices surged "ending at the highest level in more than three weeks as government data showed a bigger-than-expected drop in U.S. crude inventories as imports declined," reported Polya Lesova and Moming Zhou of MarketWatch. The Energy Information Administration (EIA) said crude supplies fell 4.84 million barrels to 327.5 million last week. Gasoline inventories declined by 900,000 barrels.
"These numbers took analysts by surprise," Sean Brodrick, natural resource analyst with Weiss Research in Jupiter, Florida, said on Bloomberg. "We are now set to march up to the $80 level."
New York crude-oil for February delivery soared $2.27, or 3.1 percent, to $76.67 a barrel.
The national average for regular unleaded gasoline declined one-tenth of a cent to $2.584 a gallon, according to AAA fuel data. That is a penny lower than a week ago, and 5.6 cents down from a month ago. The price is 92.5 cents higher than a year ago.
U.S. Stocks
U.S. stocks rose slightly "as strength in technology shares and commodities offset concerns about the housing market," wrote Ben Rooney of CNNMoney.
The Commerce Department said new home sales fell 11.3 percent in November to a 355,000 unit annual rate. Expectations were for sales to increase to 440,000 units. On Tuesday, the National Association of Realtors reported that sales of existing homes rose 7.4 percent in November to a 6.54 million annual rate.
The Dow Jones industrial average rose 1.51 points, or 0.01 percent, to 10,466.44. The S&P 500 Index climbed 2.57 points, or 0.23 percent, to 1,120.59. The Nasdaq Composite Index advanced 16.97 points, or 0.75 percent, to 2,269.64.
Gold, Silver, and Metals: Prices and Commentary – Dec. 23

by Jon Nadler, Kitco Metals Inc.
Slim Pickings – Just The Facts
Good Day,
Following yesterday's drop to seven-week lows near $1073, gold prices steadied a bit overnight as mild bargain hunting emerged on the back of the renewed decline. As for the midweek session, well, New York spot bullion trading opened on the indecisive side, with gold showing a $.20 gain, quoted at $1083.40 per ounce against a slightly lower US dollar on the trade-weighted index, (last seen at 78.16, off by 0.15).
One would have expected that even a slight fall-off in the greenback would result in a more robust performance by gold, but conditions are of the pre-holiday variety at this time…thus, do not try to make sense of less than logical moves today, or next week.
Otherwise, pretty slim pickings were also on offer on the economic calendar, with the only news of import being the meager rise in US consumer spending last month (up by 0.5%) and the 0.3% gain in wages and salaries (that, however, was the largest gain since April). Inflation remained about as visible as Waldo normally is, in a poster-sized drawing. We could only spot his shawl.
Crude oil was marginally lower, quoted at $72.73 per barrel, down by $0.89. Silver prices showed a four cent gain, to open at $16.99 per ounce, while platinum added $3 to start the day at $1397 per ounce, and palladium rose by $1 to $354 amid the aforementioned thin trading conditions. Rhodium was unchanged at $2340 per Troy ounce. While automaker SAAB's fate remains in limbo, that of Volvo has now become pretty clear. It will be sold by Ford, to…China's Geely. The musical chairs game in the auto industry continues without interruptions. Now, if sales can just pick up, no matter what the nameplate eventually spells…
Earlier, gold prices showed little in the way of change in Europe, but the EUR/USD pair remained near 1.425, and gold's technical charts "remained weak following a break of an August-December uptrend-support" said Matthias Detremmerie, founder of Goldessential.com Thus, the most probable range for gold to finish out the year in, would be the $1050-$1100 channel.
The current correction however could drag prices to levels anywhere between $1030 and $1060 if selling patterns re-emerge. Gold holdings in the exchange-traded funds fell by 2.84 tonnes on Tuesday, following quite decent back-to-back additions in previous days (more year-end book-squaring).The Kitco counters currently show gold sporting a 20% gain on the year-on-year (date-to-date-based) chart and also indicate a 6.8% loss on the 30-day basis.
That said, "The correlation between gold and the single currency pair remains significant, with the latter exposing an oversold reading of around 20 on the 14-day relative strength indicator, which may open for some recovery and which would support gold as well, and perhaps we could re-test the $1,100 level ahead of the New-Year"
Mr. Detremmerie also added that "Liquidity has been thin overnight in Asia, given Japan is closed today for a public Holiday, which equally removed some rebound. Liquidity issues are likely to get worse from here on, as many precious metals traders around the world are exiting their desks for the Christmas and New-Year Holidays."

In so many words, wade into these holiday-flavored market waters at your own peril, as exaggerated moves could make for less than a joyous occasion (whether you are long or short) at any given moment, on any given day, or abbreviated trading day. We would go as far to say that none of the moves in the metals in upcoming sessions are to be counted as 'significant' in either direction and that the market cannot be expected to show discernable tendencies until the in-earnest resumption of trading activities, come January 4th.

This is all we can offer you today, as it is time to catch a plane and get out of the ice and snow for a few days…
Jon Nadler
Senior Analyst
Kitco Metals Inc.
North America
Websites:
www.kitco.com
and
www.kitco.cn
Blog:
http://www.kitco.com/ind/index.html#nadler