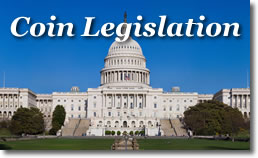 President Obama on Thursday signed the Girl Scout Commemorative Coin Act into law, authorizing the Untied States Mint to strike up to 350,000 silver dollar coins to honor the 100th anniversary of the establishment of the Girl Scouts of the United States of America (GSUSA).
The coins will be minted and sold in 2013, marking the end of Girl Scouts' yearlong centennial celebration and kicking off a new century of leadership and service to girls.
The bill, H.R. 621, was introduced by Rep. Jack Kingston and easily passed by a voice vote on Oct. 13. Sen. Susan Collins sponsored a companion bill, S. 451. Instead of moving that forward, the Senate simply passed the House version on Oct. 19 by Unanimous Consent.
President Obama signed the bill at 3:15 p.m. ET during a ceremony at the White House that included Connie L. Lindsey, GSUSA National Board Chair, Laurie Westley, Senior Vice President, Public Policy, Advocacy & the Research Institute, and girls from the Girl Scout Council of the Nation's Capital.
"This is a wonderful honor for Girl Scouts," said Cloninger, CEO of Girl Scouts of the USA. "Congress only allows the minting of two coins a year and this is such a fitting way to honor our Movement and the million of girls and women whose lives Girl Scouting has touched. We are grateful to the President, the House and the Senate for their support."
In 1911, Juliette Gordon Low met Sir Robert Baden-Powell, a war hero and the founder of the Boy Scouts. That led to the establishment of Girl Scouts on March 12, 1912 by Low. She organized the first two troops consisting of 18 members in Savannah, Georgia. Flash forward to 2009, and Girl Scouts is now the largest voluntary association for women and girls in the United States. More than 50 million women have been Girl Scouts.
The act does not contain specific coin design language, which is standard. The coin design will involve collaborative efforts between the United States Mint, the Girl Scouts of the United States of America, the Commission of Fine Arts, and the Citizens Coinage Advisory Committee. The main criteria is that the design must be "emblematic of the centennial of the Girl Scouts of the United States of America." The silver coin will include the inscriptions 'Liberty', 'In God We Trust', 'United States of America', and 'E Pluribus Unum'). Each will weigh 26.73 grams and have a diameter of 1.5 inches.
The Girl Scouts USA Centennial Commemorative Coin Act includes a provision for a $10 surcharge per coin paid to the GSUSA and made available for Girl Scout program development and delivery.
Boy Scouts will be honored as well. The Boy Scouts Centennial Commemorative Coin Act was signed into law in Oct. 2008. It authorizes 350,000 silver dollar coins in 2010 to celebrate the 100th anniversary of the Boy Scouts of America.