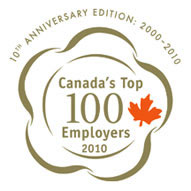 Ottawa, Ontario — For the fourth consecutive year, the Royal Canadian Mint has been named one of Canada's Top 100 Employers for 2010. This annual list, published by MediaCorp, recognizes employers that are industry leaders at attracting and retaining employees.
"The Royal Canadian Mint is extremely proud to be included as one of Canada's Top 100 Employers, particularly to be among a list of such distinguished and industry-leading Canadian companies," said Ian E. Bennett, President and CEO of the Royal Canadian Mint. "I would like to take this opportunity to congratulate employees for making the Mint such a great place to work each and every day."
The Mint has also once again been selected as one of the Top 25 Employers in the National Capital Region.
The Mint was selected for Canada's Top 100 Employers for 2010  for several reasons, including: health and family-friendly benefits such as exceptional parental leave top-up payments; physical workplace advantages which include onsite fitness facilities; a broad training and skills development program; and competitive financial benefits and compensation which include generous pension plan contributions.
The Royal Canadian Mint, with facilities located in both Ottawa and Winnipeg, is a commercial Crown corporation which is responsible for the production of all circulation coins used in Canada and for the management of the supporting distribution system. Founded in 1908, the Mint has become one the world's foremost producers of circulation, collector and bullion investment coins. It also has a gold and silver refinery.
The Ottawa facility, which occupies the same premises on which the Mint was founded 101 years ago, produces hand-crafted collector and commemorative coins, gold bullion coins, medals and medallions. It is here that all the master tooling is done to create the dies that strike coin designs for both circulation and commemorative issues. The Mint's gold and silver refining as well as its advanced engineering operations are also located in Ottawa.
Established in 1976, the Winnipeg facility is a high-tech, high-volume manufacturing facility. This is where all of Canada's circulation coinage is produced. Over 40 coining presses enable the production of up to 20 million coins per day. The Mint also strikes foreign circulation coinage in Winnipeg, having produced coins for over 70 different countries over the past 25 years.
With over 900 employees, the Mint has become one of the most modern and innovative in the world.
Please visit (mint.catestimonials) for employee testimonials on why the Mint is such a great place to work, as told in their own words. To consider a rewarding career at the Royal Canadian Mint, please visit our careers section at (mint.cacareer).
# # #
About the Royal Canadian Mint
The Royal Canadian Mint is the Crown Corporation responsible for the minting and distribution of Canada's circulation coins. An ISO 9001-2000 certified company, the Mint is recognized as one of the largest and most versatile mints in the world, offering a wide range of specialized, high quality coinage products and related services on an international scale.
The Mint is an Official Supporter of the Vancouver 2010 Olympic and Paralympic Winter Games and has undertaken to produce the most extensive circulation coin program in relation to the Olympic Games ever conceived by any mint worldwide, while also offering limited mintage collector coins and sets. Visit www.mint.ca/2010 for Vancouver 2010 keepsakes and gifts.