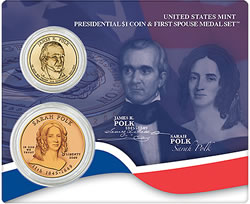 James K. Polk and Sarah Polk Presidential Dollar & First Spouse Medal Sets launched Thursday at noon ET and are available at the United States Mint Web site for a price of $8.95, plus shipping and handling.
Marking the fourth issue of the product series this year and the twelfth since it began in 2007, the set includes an uncirculated James K. Polk Presidential Dollar and a 1/15 inch Sarah Polk Bronze Medal.
The two are mounted within an attractive "durable plastic card enhanced with beautiful representations of the President and first spouse's portraits, with issuance information on the back."
US Mint sales figures for this year's sets, as illustrated in the table below, are stronger than individual First Spouse Gold Coins, but less than bags and rolls of the Presidential Dollars.
2009 Presidential $1 & First Spouse Medal Set Sales
(as of Sept. 13)

The dollar coin and medal combination has proven to be lucrative for sellers in the secondary market. Current eBay auctions
show listings for past sets as high as 2-6 times the original Mint prices.
US Mint order details
Details are available for the latest issue on the US Mint page:
2009 US Mint Presidential $1 Coin & First Spouse Medal Set™ – James K. Polk (XP3)
Orders may also be placed via the Mint's toll-free number, 1-800-USA-MINT (872-6468). Hearing and speech-impaired customers may order by calling 1-888-321-MINT (6468).
Images and information for all First Lady medals and coins are available on the CoinNews sister site, First Spouse Gold Coins.
About the United States Mint
The United States Mint, created by Congress in 1792, is the Nation's sole manufacturer of legal tender coinage. Its primary mission is to produce an adequate volume of circulating coinage for the Nation to conduct its trade and commerce. The United States Mint also produces proof, uncirculated, and commemorative coins; Congressional Gold Medals; and gold, silver and platinum bullion coins.