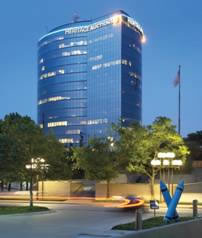 DALLAS, TX — Heritage Auction Galleries has announced that it recently secured a new $35 million line of credit from Wells Fargo Business Credit, a division of Wells Fargo Bank, N.A., to be used in support of its auction and sales operations. This comes as the holder of Heritage's previous line of credit, Sovereign Precious Metals LLC, a subsidiary of Sovereign Bank, disbanded in the wake of new ownership.
"We believe this new relationship with Wells Fargo speaks to the financial stability of Heritage's business operations – a stability that goes back to our inception more than 35 years ago," said Steve Ivy, Co-Chairman of Heritage. "This new line of credit further strengthens Heritage's already very strong balance sheet."
Ivy further pointed out how crucial financial dependability is when potential clients weigh the various auction options before them.
"Besides our new arrangement with Wells Fargo, Heritage enjoys well more than $100 million in assets and more than $50 million in owner's capital," Ivy said. "Beyond that we have several other healthy sources of capital and a 20-year uninterrupted record of clean certified opinions from our auditors at KPMG."
While the last year has buffeted the global financial markets, and has taken a serious toll on several high profile auction companies around the planet, Heritage has weathered the storm with a balanced portfolio as well as a balanced approach. This has resulted in record auction prices across several categories, along with planned expansion into several new geographic markets, including showrooms in New York City and Beverly Hills.
Heritage's track record of never being late on a single settlement with any consignor in more than three decades in business remains fully intact; that translates into 45,000+ consigning clients, more than 2,250 auctions and billions of dollars in proceeds.
Heritage's fully engaged ownership, in the form of its five managing partners – Ivy, Jim Halperin, Greg Rohan, Marc Emory, and Paul Minshull – have all worked at the company for at least 20 years apiece, and have focused on smart, stable expansion of the Heritage brand and reach into all corners of the globe. This has resulted in an ever-growing bidder-member base of 450,000+ in 181 countries around the world.
"Our global outreach is clearly one of our greatest strengths," said Ivy. "We look forward to continued growth and strength regardless of the prevailing circumstances in the broader market."
For more information, call Noah Fleisher at 214-409-1143, or email NoahF@HA.com.
About Heritage Auction Galleries
Heritage Auction Galleries is the world's third largest auction house, and by far the largest auctioneer of rare collectibles, with annual sales exceeding $700 million, and 450,000+ registered online bidder members. For more information about Heritage's auctions, and to join and gain access to a complete record of prices realized, along with full-color, enlargeable photos of each lot, please visit www.HA.com.
Want to get the up-to-the-minute updates and breaking news stories about Heritage? Get them as they happen at: www.Twitter.com/HeritagePress; www.Twitter.com/JimHalperin; Facebook: Heritage Auction Galleries. To view a compete archive of Heritage press releases go to: www.HA.com/PR.
# # #