Kern-Carter 1880 Coiled Hair Stella leads July 31-Aug.2 event with $546,250
DALLAS, TX — An 1880 $4 Coiled Hair Stella, Judd-1660, Pollock-1860, Low R.7, PR62 NGC — a gorgeous example of the timeless design of George Morgan — realized $546,250 at Heritage Auction Galleries' July 31-Aug. 2 Los Angeles U.S. Coin Auction, leading the almost $25 million event. All prices include 15% Buyer's Premium.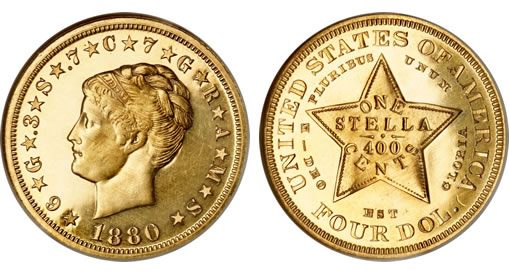 "We're certainly pleased with the outcome of this auction," said Greg Rohan, President of Heritage.

"Our three day event was a blockbuster. It brought in more than the top grossing movie of the weekend, which earned a little more than $22 million total.

If you factor in that we did it with almost 4,000 bidders, and sold more than 90% of all lots, the figure is even more impressive."
In past auctions Heritage has only been able to account for eight different examples of the 1880 $4 Coiled Hair stella, but the firm has recently established that the Dallas Bank Collection example makes a ninth distinct survivor. It was believed for many years that just 10 pieces were struck, but it is more likely that 20 pieces were originally coined, which all goes to show that, like the 1879 Coiled Hair and 1880 Flowing Hair coins, the 1880 Coiled Hair is a major rarity from an extremely small mintage.
"The more than half million dollar price tag attests not only to the rarity of this great coin," said Rohan. "It also speaks to the undiminished popularity and lasting beauty of Morgan's artistry."
The number two and three lots in the auction — a spectacular MS65 1933 $10, the Morse-O'Neal example of the 'Last Collectible Classic U.S. Gold Issue,' and an 1856-O $20 AU58 NGC, one of the finest known examples — both brought $460,000 from the enthusiastic Los Angeles buyers.
The 1933 $10 is among the most notable rarities of the 20th Century U.S. Mint Gold Series, having survived President Franklin Roosevelt's early 1933 order halting the release of gold coins from the Mint, and recalling gold coin, gold bullion, and gold certificates, which was made in an effort to halt the downward economic spiral created by The Great Depression. The near-Mint 1856-O $20 is one of the few remaining examples of a mintage that was small to begin with, only 2,250 pieces; it is easily the rarest double eagle from the New Orleans Mint, and ranks alongside the 1854-O and 1870-CC issues as the rarest business strike Liberty $20s.
A true first year of issue super gold rarity, a 1795 $5 Small Eagle S over D MS65 Prooflike NGC, was the subject of much admiration and fierce floor bidding in Los Angeles as it soared to a $345,000 price tag.
"This stunning beauty ranks among the finest Heritage has ever handled," said Rohan. "In fact, it's the only Gem example of this early issue that has appeared in any of our auctions since 1993, being a reappearance of lot 3135 in our January 2008 FUN Sale. It's also the finest Prooflike example that has ever been certified."
A very rare 1920-S $10 MS66 PCGS, Ex: O'Neal, from the year that marked the first U.S. regular-issue gold coinage since 1916, proved quite popular with collectors at the Los Angeles auction, bringing a healthy $345,000 price realized. In 1920, when 126,500 eagles were struck at the San Francisco Mint, they were already considered one of the rarest of all 20th century $10 gold coins as nearly all were exported in commercial trade, or held in Treasury vaults and eventually melted in the 1930s. No hoards have ever turned up and the coin remains very rare, and popular, to this day.
Further highlights from the auction include, but are not limited to:
A Rare Justh & Hunter Large-Sized, Memorable Gold Ingot, Nearly 15 Pounds, Recovered from the S.S. Central America:
Large Rectangular Justh & Hunter 179-Ounce Gold Ingot (1855-57). This large, deeply-patinated rectangular ingot was among many recovered from the doomed ship S.S. Central America, which foundered in a hurricane in 1857, carrying to the sea floor the present example and many others marked with the Justh & Hunter imprint, as well as those of numerous other assayers. A memorable and historic piece of the California gold rush.
Realized: $322,000
Landmark 1804 Quarter Eagle, 13 Star Reverse, the Rarest Quarter Eagle Major Variety, BD-1,
Possibly Finest Known, AU58:
A strong candidate for Finest Known, this coin is a memorable specimen of one of the rarest major varieties in the U.S. gold series. The BD-1 variety is characterized by the presence of 13 stars on the reverse, compared to the 14 stars of the more available BD-2 variety of this date.
Realized: $322,000
Possibly the Finest Known 1776 Brass Continental Dollar, MS63, Newman 1-B, Hodder 1-A.2, Reverse Double Struck:
About 15 brass Continental Currency pieces are known in all grades, and they are only known from the original engraving or the first modification of Reverse A. Breen recorded an example of the EG FECIT variety in brass; however, that piece has never materialized. Current rarity information indicates that there are three known examples of Hodder 1-A.1, and about 12 known of Hodder 1-A.2, the variety that was offered in Los Angeles.
Realized: $299,000
Excessively Rare 1776 Ornamented Date Dollar, XF45 PCGS. CAC. Newman 5-D, Hodder 4.1-B, W-8480, R.8., Tied for the Finest of Three Known:
Only three examples of the Ornamented Date rarity, including this coin, are known to collectors. The Norweb specimen and the present example appear to be tied for the finest known of the Ornamented Date variety. However, the Norweb coin is now in the collection of a well established New York colonial specialist, and will likely remain off the market for a long time. The present example, which was unknown to older generations, first appeared in the Christie's sale of November 1990, lot 241, where it was conservatively graded Very Fine. The third specimen appeared in the June 1997 Spink America sale, lot 19, with a provenance to Burdette Johnson, Col. E.H.R. Green, and Waldo Newcomer before him.
Realized: $276,000
A Spectacular 1844 Quarter, PR66 NGC, CAC. Ex: Pittman-Kaufman, Finest Known, the Only Certified Example: The rarity of the 1844 proof quarter is attested to by its certified population of one, this NGC-graded PR66 coin pedigreed to the John Jay Pittman and Phil Kaufman collections. Additionally, Larry Briggs, in his The Comprehensive Encyclopedia of United States Liberty Seated Quarters, says of the 1844 quarter that there are "approximately five proofs," and Walter Breen, in the Complete Encyclopedia of United States and Colonial Coins, also contends that there are "Five proofs traced."
Realized: $276,000
For more information on the August 2009 Los Angeles U.S. Coin Auction, to read detailed descriptions of these, and any other lots, and to download full-color, enlargeable images, go online to www.HA.com/1128.
About Heritage Auction Galleries
Heritage Auction Galleries is the world's third largest auction house, and by far the largest auctioneer of rare collectibles, with annual sales more than $700 million, and 450,000+ registered online bidder members. For more information about Heritage's auctions, and to join and gain access to a complete record of prices realized, along with full-color, enlargeable photos of each lot, please visit www.HA.com.
Want to get the up-to-the-minute updates and breaking news stories about Heritage? Get them as they happen at: www.Twitter.com/HeritagePress; www.Twitter.com/JimHalperin; Facebook: Heritage Auction Galleries. To view a compete archive of Heritage press releases go to: www.HA.com/PR. To link to this press release on your blog or Website: www.ha.com/PR-1717.
# # #