Gold inched slightly lower Thursday, breaking a three-day winning streak as the U.S. dollar rebounded from earlier declines. Silver and platinum posted modest gains. Outside the metals, crude-oil rallied late to end above $62 a barrel while U.S. stocks continued to march higher.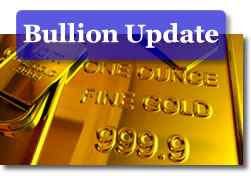 In New York trading futures for bullion:
Silver for September delivery rose 2.7 cents, or 0.2 percent, to 13.235 an ounce.

Gold for August delivery fell $4.00, or 0.4 percent, to $935.40 an ounce.

October platinum gained by $11.40, or 1.0 percent, to $1,169.30 an ounce.
Notable precious metal quotes on the day follow:
"We probably need to see either a further weakening in the dollar and/or a return to the fear-driven, safe-haven buying seen in the gold market at the start of 2009 for gold to move sharply higher," John Reade, UBS AG's head metals strategist in London, was quoted today on Bloomberg. "We do not see the short-term drivers for a sharp move higher."
"While the rebound over the past few days has been encouraging, we still remain slightly skeptical in the short term as to gold's ability to clear and hold above $950," James Moore, an analyst at TheBullionDesk.com, was quoted on MarketWatch.
In London bullion, the benchmark gold price was fixed earlier in the day to $935.00 an ounce, marking a $3.00 decline. Silver fell 6 cents to $13.21 an ounce. Platinum was fixed $7.00 higher to $1,165.00.
Gold, considered a hedge during times of high inflation and economic uncertainty, tends to follow oil and move opposite to the U.S. dollar. A rising greenback makes dollar-denominated commodities, like bullion, more expensive for holders of other world currencies.
Oil and gasoline prices
Oil prices climbed on Thursday after reversing earlier losses "as positive economic data from the U.S. and China, the two biggest consumers of oil in the world, offset worries about sluggish petroleum demand," wrote Moming Zhou and Polya Lesova of MarketWatch.
New York crude-oil for August delivery rose 51 cents, or 0.8 percent, to close at $62.05 a barrel.
Prices at the pump continue to fall. The national average for unleaded gasoline dropped 1.2 cents to $2.492 a gallon, according to AAA. The price is 8.8 cents cheaper than last week, 18.2 cents less than a month back, and $1.62 lower than a year ago.
U.S. Stocks
U.S. stocks rose for the fourth straight day "as investors welcomed JPMorgan Chase's better-than-expected profit report and geared up reports from tech leaders after the close," writes CNNMoney.
The Dow Jones industrial average gained 65.91 points, or 0.76 percent, to 8,682.12. The S&P 500 Index rose 5.96 points, or 0.64 percent, to 938.64. The Nasdaq Composite Index climbed 18.39 points, or 0.99 percent, at 1,880.96.
Check out additional market resources at Live Bullion Spots, the Silver Calculator, U.S. Mint Collector Bullion Price Guide, and the Inflation Calculator.