Gold pitched away from last week gains and a four day win streak to fall slightly on Monday. A fluctuating U.S. dollar spurred the yellow metal to recover a chunk of earlier day losses. Silver and platinum declined more firmly while crude-oil rallied with U.S. stocks.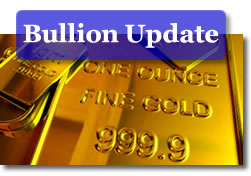 In New York trading futures for bullion:
Silver for July delivery fell 18.1 cents, or 1.3 percent, to 13.947 an ounce.

Gold for August delivery lost 30 cents, or 0.03 percent, to $940.70 an ounce.

July platinum declined $18.80, or 1.6 percent, to $1,184.20 an ounce.
"The dollar is definitely a significant factor, which has been driving gold for a while. If the dollar gets stronger, we will see weaker gold," Miguel Perez-Santalla, vice president of sales of Heraeus Precious Metals Management, was quoted on Reuters.
Gold's "primary focus remains on U.S. dollar movements, but volatility could also come this week from the cyclical process of quarter-end book-squaring processes," wrote Jon Nadler, senior analyst at Kitco Metals Inc.
In London bullion, the benchmark gold price was set earlier in the day to $935.50 an ounce, which was $6.50 lower than the fixing on Friday. Silver fell 19 cents to $14.07 an ounce. Platinum was fixed $19.00 lower to $1,184.00.
Gold, considered a hedge during times of high inflation and economic uncertainty, tends to follow oil and move opposite to the U.S. dollar. A rising greenback makes dollar-denominated commodities, like bullion, more expensive for holders of other world currencies.
In related gold news, the Royal Canadian Mint said today that the approximately $15.3 million in missing gold was not an accounting or bookkeeping error, according to an external audit. For more on this story, read Mint Releases Missing Gold Findings.
Oil and gasoline prices
Oil climbed above $71 a barrel Monday following its decline to below $70 on Friday. Lifting oil was an attack on an oil platform in Nigeria which renewed supply fears.
New York crude-oil for August delivery soared $2.33, or 3.3 percent, to close at $71.49 a barrel.
Prices at the pump fell 4 cents on Monday, continuing a declining trend that began early last week. The national average for unleaded gasoline moved to $2.639 a gallon, according to AAA. The price is 5.1 cents lower than a week ago but still 15.10 cents higher than last month.
U.S. Stocks
U.S. stocks rallied "with oil and technology shares leading the way as investors scooped up shares hit in the recent retreat," writes Alexandra Twin of CNNMoney.
The Dow Jones industrial average gained 90.99 points, or 1.08 percent, to 8,529.38. The S&P 500 Index rose 8.33 points, or 0.91 percent, to 927.23. The Nasdaq Composite Index climbed 5.84 points, or 0.32 percent, to 1,844.06.
Check out additional market resources at Live Bullion Spots, the Silver Calculator, U.S. Mint Collector Bullion Price Guide, and the Inflation Calculator.