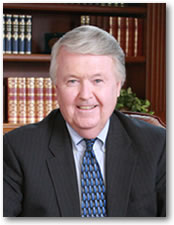 Former U.S. Mint Director and Congressman Jay Johnson has become a spokesperson for Goldline International, Inc.
"As a former Director of the United States Mint, I believe strongly in the importance of owning gold as part of a diversified portfolio" said Johnson. 

"That's why I'm proud to endorse Goldline which has been helping people acquire gold and other precious metals for nearly 50 years."  
During his term as the 36th Director of the U.S. Mint, Johnson managed the multi-billion dollar manufacturing business for the U.S. government.  Under his supervision, the U.S. Mint produced a record 26 billion coins in the fiscal year 2000-2001 along with a record "profit" of $2.6 billion dollars.  Johnson is also a former U.S Congressman from Wisconsin and a long-time award-winning news broadcaster and recipient of an American Numismatic Association Presidential Award.
"Jay Johnson has a distinguished career in public service and we are proud that he has chosen to represent Goldline as his choice for gold and other precious metals," said Mark Albarian, President & CEO of Goldline. 

"During these unsettled economic times, we believe it's especially important for people to learn more about diversifying their portfolios with gold coins." 
Gold Could Reach New Records on Inflation and Dollar Worries
Several analysts believe that gold prices could reach new record highs pointing to concerns about inflation and a falling U.S. dollar.  In an apparent bid to diversify its reserve portfolio, China announced that it had had increased its official gold holdings by 75%, making China the sixth largest gold holder globally.  One of the United States largest insurers also recently announced it acquired $400 million worth of gold, its first gold purchase in the company's history, as a hedge against asset declines. 
Leading Dealer for Precious Metal, Rare Coin & Gold Investment
Goldline is one of the largest companies working with investors and collectors in the gold, coin, and precious metals field with more than 200 employees and annual sales exceeding $400,000,000.
To request an interview with Mark Albarian regarding precious metals, rare coin, or gold investments, please contact Goldline at 1-800-827-4653. 
About Goldline International, Inc. 

Goldline International, Inc. has assisted investors and collectors by offering a full range of precious metals products since 1960. The company offers internationally recognized gold coins along with silver and platinum coins and bars as well as rare and collectible numismatic coins and currency.
Learn more about Goldline at http://www.goldline.com. 
# # #