Pobjoy Mint is thrilled to announce a fabulous new issue on behalf of the Falkland Islands to celebrate the 200th Anniversary of the Birth of Charles Darwin.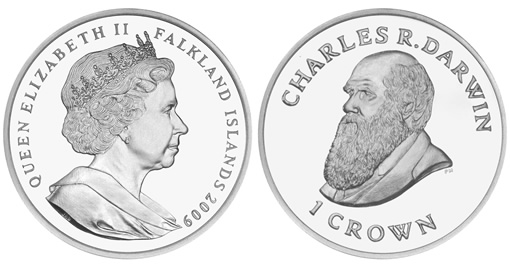 Born in Shrewsbury, Shropshire in February 1809, Charles Darwin was born into a wealthy and well-connected family. Darwin had initially planned to study medicine at Edinburgh University but later switched to studying Divinity at Cambridge.
Best known for his theory on evolution, Charles Darwin was fundamental in discovering how all species of life developed from a central ancestor, changing the way we think about how we came to be as humans. He was a naturalist who searched the globe for new species of flora and fauna and he worked on his theory for 20 years, publishing the famous, 'On the Origin of Species by Means of Natural Selection'.
His breakthrough came when he visited the Galapagos Islands off the coast of South America. Darwin noticed that each island had its own form of Finch which were closely related but different to each other. His theory was that humans were simply another form of mammal developed over thousands of years, possibly from Apes.
At a time when most Europeans believed the world had been created in seven days by God, as described in the bible, his ideas were initially perceived as controversial. However, Darwin's ideas now form the foundation of modern biology.
In 1831, Charles Darwin joined a five-year scientific expedition on HMS Beagle, he visited the Falkland Islands in 1833-1834 and the settlement Darwin is named in his honour. Charles Darwin died in 1882 and was buried in Westminster Abbey.
Coin Specifications and Design
The design on the reverse of the coin is a classic portrait of Darwin with his name clearly written above his image and the obverse of the coin bears a fine effigy of Her Majesty Queen Elizabeth II, designed by Ian Rank-Broadley FRBS FSNAD.
Available in Proof Fine 999.9 Gold, Proof Sterling Silver and Uncirculated Cupro Nickel and being carefully struck four times to produce a glorious finish, the design is sculpted in striking relief.
To view this coin please please visit www.pobjoy.com.
| | | | |
| --- | --- | --- | --- |
| Metal | Diameter | Weight | Issue Limit |
| Proof Fine 999.9 Gold – 1/64 Crown | 11.00mm | 1/2gms | 5,000 |
| Proof Sterling Silver – Crown | 38.60mm | 28.28gms | 10,000 |
| Unc. Cupro Nickel – Crown | 38.60mm | 28.28gms | Unlimited |
# # #
About Pobjoy Mint Ltd.
The Pobjoy family have been associated with fine metalwork since the Middle Ages. The Company was recently granted permission to use the family Coat of Arms in which the Medieval Popinjay is the central motif.
Over the past three centuries, the Company has been involved in many diverse fields, but they have always been involved in metal, both base and precious.
For the past 100 years the Company has been deeply involved in the development and manufacture of coins, medals and tokens.