Celebrating the 500th anniversary of the ascension of a king considered to be controversial at the least, the Royal Mint has issued the 2009 UK Henry VIII £5 coins. These coins are available in platinum, gold, silver and cupro-nickel.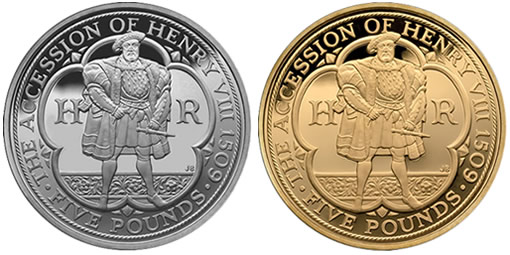 Dave Knight, Director of Commemorative Coins at the Mint, explains the choice for these commemorative coins:
"Love him or hate him, Henry VIII is undoubtedly one of history's most influential monarchs. His reign changed the face of England forever and we felt it was essential that this remarkable period of history was commemorated with a lasting and treasured memento."
Assuming the throne at the age of 17 following the death of his father, Henry VIII married his first wife Catherine of Aragon, who also happened to be his dead brother's widow. This would be the first of six wives he would have during his reign.
Henry VIII is probably best known for having two of his wives beheaded. His disregard for life did not stop there, however, as some estimate as many as 72,000 lost their lives to his ruthlessness. A fact that is quite interesting for someone who considered himself extremely religious.
Religion was not an absolute for King Henry. His desire to have a male heir led to a need for an annulment from his first wife. Unable to receive the annulment from the Pope in Rome, he started a course of events that would remove the power of the Catholic Church from England, and result in his excommunication.
By the end of his reign, he would seize the property of the church in England, execute many of its leaders, and appoint himself as the head of the Church of England.
Aside from his tyrannical methods of dealing with those that opposed him, Henry VIII is considered the Father of the English Navy. He oversaw the growth of the fleet from 7 warships when he was crowned to 53 by his death. Technological advances were also introduced to the Navy, including the additions of cannons able to fire a broadside from watertight gun ports.
2009 UK Henry VIII coins: design and specifications
The coins marking the reign of King Henry VIII have a face value of £5 with a portrait of Queen Elizabeth II designed by Ian Rank-Broadley on the obverse.
The reverse was designed by John Bergdahl who was inspired by a contemporary work of Hans Holbein. Henry is shown standing before a frieze of roses all within a petal-shaped device used frequently to frame portraits on coins of his time.
| | | | | |
| --- | --- | --- | --- | --- |
| | Henry VIII £5 Platinum Piedfort | Henry VIII £5 Gold Proof | Henry VIII £5 Silver Proof | Henry VIII £5 Cupro-Nickel |
| Metal Content | Platinum | 22 carat gold | .925 Sterling Silver | Cupro-Nickel |
| Finish/Condition | Proof | Proof | Proof | Brilliant Uncirculated |
| Mintage Limit | 100 | 1509 | 10,000 | 100,000 |
| Weight | | 39.94g | 28.28g | 28.28g |
| Diameter | | 38.61mm | 38.61mm | 38.61mm |
| Packaging | Display Case | Display Case | Display Case | Colored Folder |
| Issue Price | £4,400.00 | £1,195.00 | £44.95 | £9.99 |
Each coin may be ordered online and from around the world at www.royalmint.com.
About the Royal Mint
The Royal Mint is a department of government and its primary responsibility remains the provision of the United Kingdom coinage. Its reputation, however, extends beyond this and internationally it has a reputation for making some fascinating coins for over 100 countries.
The history of the Royal Mint itself stretches back over 1100 years. There is an unbroken link from the scattered workshops of the moneyers of Anglo-Saxon London to a single mint within the Tower of London, from a purpose-built premises at Tower Hill to the huge modern coining plant in South Wales.
In April 1975 the Mint was established as a Government Trading Fund, operationally very similar to a government-owned company.