Gold on Wednesday remained unchanged despite oil jumping above $71 a barrel and talk of inflation — both are typically helpful in advancing the yellow metal. Gains in gold were traded away later in the day as the U.S. dollar rallied. Silver and platinum finished higher, however, while U.S. stocks pulled back on those same aforementioned inflation concerns.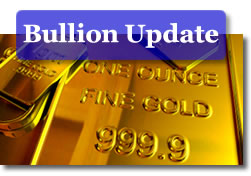 In New York trading futures for bullion:
Silver for July delivery climbed 8.5 cents, or 0.6 percent, to $15.225 an ounce. The metal ranged from $15.025 to $15.50.

Gold for August was unchanged at $954.70 an ounce. It peaked at $966.70 and had a low of $947.50.

July platinum gained $15.30, or 1.2 percent, to $1,273.20 an ounce.
"The main driver is still the U.S. dollar," Walter de Wet, a Standard Bank Ltd. analyst in London, was quoted today on Bloomberg. "We view the current pullback in precious metals prices on the back of a stronger dollar as temporary."
In spot bullion, the benchmark London gold fix price fell $2.25 to $953.75 an ounce. Silver gained 46 cents to $15.39 an ounce. Platinum was fixed $21.00 higher to $1,267.00.
Gold, considered a hedge during times of high inflation and economic uncertainty, tends to follow oil and move opposite to the U.S. dollar. A rising greenback makes dollar-denominated commodities, like bullion, more expensive for holders of other world currencies.
Oil and gasoline prices
Oil prices surged to a high not seen since October as the Energy Information Administration (EIA) reported Wednesday that crude and gasoline inventories were lower last week.
"This is a clearly bullish report," James Williams, an economist at energy research firm WTRG Economics, was quoted on MarketWatch. "The decline in crude, gasoline and distillate stocks should add to the current feeding frenzy in petroleum speculation."
New York crude-oil for July delivery jumped $1.32, or 1.9 percent, to $71.33 barrel.
Prices at the pumped increased as well, according to AAA. The average price of unleaded gasoline rose a half cent to $2.627 per gallon — 7.9 cents higher than a week ago and 40.1 cents more than last month.
U.S. Stocks
U.S. stocks finished lower Wednesday as "spiking Treasury yields and rising commodity prices added to worries that inflation could limit any recovery effort," wrote Alexandra Twin of CNNMoney.
The Dow Jones industrial average dropped 24.04 points, or 0.27 percent, to 8,739.02. The S&P Index declined 3.28 points, or 0.35 percent, to 939.15. The Nasdaq Composite Index lost 7.05 points, or 0.38 percent, to 1,853.08.
Check out additional market resources at Live Bullion Spots, the Silver Coin Melt Calculator, U.S. Mint Collector Bullion Price Guide, and the Inflation Calculator.