Pulled higher on Tuesday by a weakened U.S. dollar, gold jumped back on top of $980 an once while silver briefly inched over $16 an ounce. Platinum gained for the day as well. In other markets, crude-oil dropped three pennies as U.S. stocks advanced.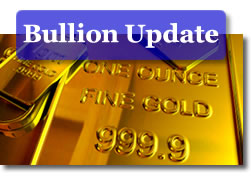 In New York trading futures for bullion:
Silver for July delivery gained 22 cents, or 1.4 percent, to $15.955 an ounce. The metal reached a high of $16.02 earlier in the day.

Gold for August gained $4.40, or 0.4 percent, to $984.40 an ounce. For the day, the yellow metal ranged from $970.50 to $988.30.

July platinum jumped $22.80, or 1.9 percent, to $1,243.40 an ounce.
"Precious-metals markets are expected to continue their upward trends this week, with gold approaching $1,000 and silver $16," Tom Pawlicki, an analyst at MF Global in Chicago, was quoted on today on Bloomberg. "Support will come from continued investment interest, the possibility of improving physical demand, and from growing tensions with North Korea."
In spot bullion, the benchmark London gold fix price fell $1.75 to $980.00 an ounce. Silver lost 24 cents to $15.62 an ounce. Platinum was fixed $3.00 higher to $1,217.00.
Gold, considered a hedge during times of high inflation and economic uncertainty, tends to follow oil and move opposite to the U.S. dollar. A rising greenback makes dollar-denominated commodities, like bullion, more expensive for holders of other world currencies.
In related news for coins and driven higher by bullion gains, US gold coin prices will rise Wednesday for the First Spouse Coin series and the UHR $20 gold piece.
Oil and gasoline prices
Oil prices dipped slightly Tuesday as "upbeat U.S. housing data rekindled hopes of an economic recovery and a rebound in energy demand," writes Polya Lesova and Myra P. Saefong from MarketWatch. New York crude-oil for July delivery fell 3 cents, or 0.04 percent, to close at $68.55 a barrel.
The national average for unleaded gasoline climbed 1.3 cents to $2.525 a gallon, according to AAA. The price is 10 cents higher than a week ago and 45.7 cents higher than last month.
U.S. Stocks
U.S. stocks closed higher following a "positive housing report and a series of not-as-bad-as-expected auto sales reports gave investors some optimism," writes Alexandra Twin from CNNMoney.
The Dow Jones industrial average gained 19.43 points, or 0.22 percent, to 8,740.87. The S&P 500 Index rose 1.87 points, or 0.20 percent, to 944.74. The Nasdaq Composite Index climbed 8.12 points, or 0.44 percent, to 1,836.80.
Check out additional market resources at Live Bullion Spots, the Silver Coin Melt Calculator, U.S. Mint Collector Bullion Price Guide, and the Inflation Calculator.