Volatile gold prices was the name of the game on Wednesday until the yellow metal settled for a zero dollar gain. Silver rebounded from its previous session loss while platinum rose slightly. In other markets, crude-oil topped $63 a barrel to near a seventh-month high, and U.S. stocks were driven lower.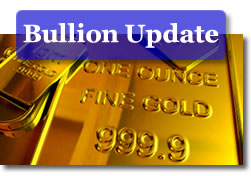 In New York trading futures for bullion:
Silver for July delivery surged 26.5 cents, or 1.8 percent, to $14.865 an ounce.

Gold for June remained unchanged at $953.30 an ounce. During the day, the metal reached a low of $946.20 and climbed as high as $959.60.

July platinum rose $1.30, or 0.1 percent, to $1,141.10 an ounce.
"A gold breakout before June? Hard to imagine," wrote Jon Nadler, Sr. analyst at Kitco.com. "The market is overbought. Where are the jitters? Where is inflation? N. Korea did not do the trick. Add it all up, and we see fund profit-taking as fairly imminent."
Marc Faber, publisher of the Gloom, Boom and Doom Report was quoted on Bloomberg with another perspective.
"I'm 100 percent sure that the U.S. will go into hyperinflation," said Marc Faber. "I don't think that gold will run up right away. I never sold gold and I'm still buying gold."
In spot bullion, the benchmark London gold fix price rose $6.00 to $951.00 an ounce. Silver jumped 20 cents to $14.50 an ounce. Platinum was fixed $6.00 higher to $1,134.00.
Gold, considered a hedge during times of high inflation and economic uncertainty, tends to follow oil and move opposite to the U.S. dollar. A rising greenback makes dollar-denominated commodities, like bullion, more expensive for holders of other world currencies.
Oil and gasoline prices
The Energy Information Administration (EIA) will release inventory data on Thursday, one day later than normal because of the Memorial Day holiday. However, the EIA did spark buying interest on Wednesday in an annual report that projected oil prices will rise to $110 in 2015 and $130 in 2030. New York crude-oil for July delivery surged $1.00, or 1.6 percent, to $63.45 a barrel.
Prices at the pump jumped nearly a penny. AAA said the national average for unleaded gasoline moved higher by nine-tenths of a cent to $2.434 a gallon. The price is 10 cents higher than a week ago and 38 cents higher than last month.
U.S. Stocks
U.S. stocks plunged Wednesday "after a sharp rise in Treasury yields added to jitters over a looming bankruptcy for General Motors," writes Ben Rooney from CNNMoney.
The Dow Jones industrial average plummeted 173.47 points, or 2.05 percent, to 8,300.02. The S&P 500 Index lost 17.27 points, or 1.90 percent, to 893.06. The Nasdaq Composite Index fell 19.35 points, or 1.11 percent, to 1,731.08.
Check out additional market resources at Live Bullion Spots, the Silver Coin Melt Calculator, U.S. Mint Collector Bullion Price Guide, and the Inflation Calculator.