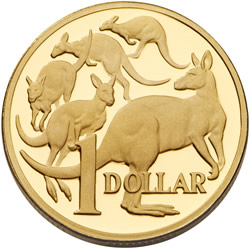 Australia's first $1 coin turns 25 today and has become one of Australia's most recognised coin designs.
In 1984 the 'five kangaroos' $1 coin design replaced the $1 note, adding another coin to Australia's official decimal currency.
In preparation for the currency changeover, from note to coin, a variety of coin designs and shapes were considered including a seven-sided coin and a scalloped edge coin.
"Stuart Devlin, the Queen's appointed goldsmith and jeweller, was invited to submit designs for the new $1 coin. His proposals featured Australian native fauna including a wombat, a penguin and the famous five kangaroos which are still used today," said Graham Smith, Acting Chief Executive Officer of the Royal Australian Mint.
"The kangaroo is recognised all around the world as a symbol of Australia. It is fitting that the Royal Australian Mint is best known for its kangaroo design coins and that this 25 year old design has become one of the favourite designs on Australia's coins," said Mr Smith.
# # #
About the Royal Australian Mint
His Royal Highness, The Duke of Edinburgh, officially opened the Royal Australian Mint, Canberra, on Monday 22nd February 1965. The Mint was commissioned to produce Australia's decimal coinage, which was to be introduced into circulation on 14th February 1966. The Royal Australian Mint holds a place in history as the first mint in Australia not to be a branch of the Royal Mint, London.
Since opening in 1965 the Mint has produced over eleven billion circulating coins and has the capacity to produce over two million coins per day, or over six hundred million coins per year.
The Royal Australian Mint has struck coins for a number of South Pacific nations. Export coins were first struck in 1969 for New Zealand and, since then, coins have been produced for Papua New Guinea, Tonga, Western Samoa, Cook Islands, Fiji, Malaysia, Thailand, Nepal, Bangladesh, Israel and Tokelau.