Gold pushed higher Tuesday as the U.S. dollar declined against other world currencies. Silver and platinum also gained. In other markets, crude-oil briefly touched $60 a barrel and U.S. stocks ended mixed.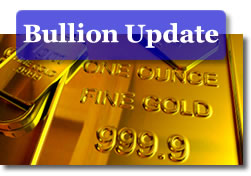 In New York trading futures for bullion:
Silver for July delivery surged 30.5 cents, or 2.2 percent, to $14.215 an ounce.

Gold for June gained $10.40, or 1.1 percent, to $923.90 an ounce.

July platinum rose $11.40, or 1.0 percent, to $1,132.10 an ounce.
"A pullback in the US dollar prompted some fresh gold buying," wrote Jon Nadler, a senior analyst at Kitco Inc. "Yesterday's profit-taking stock market sell-off and this morning's expectations of a widening US trade deficit combined in gold's favor, but the metal appears to still be confined within its recent range."
"Gold prices are being influenced by fund flows, as price moves have been more impulsive than based on a fundamental input," Tom Pawlicki, an analyst in Chicago, was quoted on Bloomberg.
In spot bullion, the benchmark London gold fix price gained $4.00 to $917.00 an ounce. Silver climbed 19 cents to $14.09 an ounce. Platinum was fixed $16.00 higher to $1,130.00.
Gold, considered a hedge during times of high inflation and economic uncertainty, tends to follow oil and move opposite to the U.S. dollar. A rising greenback makes dollar-denominated commodities, like bullion, more expensive for holders of other world currencies.
Oil and gasoline prices
Trading was volatile Tuesday for oil as swings pushed prices below $58 early and over $60 later. In the end, crude-oil for June delivery closed to $58.85 a barrel, finishing higher by 35 cents, or 0.6 percent.
Prices at the pump continue to aggressively climb.The average price for unleaded gasoline jumped another 2.2 cents to $2.248 a gallon, according to AAA. The price is up 16.9 cents from a week ago.
U.S. Stocks
For the second straight day, U.S. stocks were less than impressive. However, not all indexes were lower as they were the day prior.
The Dow Jones industrial average gained 50.34 points, or 0.60 percent, to 8,469.11. The S&P 500 Index lost 0.89 points, or 0.10 percent, to 908.35. The Nasdaq Composite Index fell 15.32 points, or 0.88 percent, at 1,715.92.
Check out additional market resources at Live Bullion Spots, the Silver Coin Melt Calculator, U.S. Mint Collector Bullion Price Guide, and the Inflation Calculator.