Gold rose on Thursday for the fourth straight day while silver continued on a glistening performance for a fifth day in a row and climbed over $14 an ounce. Platinum and crude-oil advanced as well. U.S. stocks, however, retreated.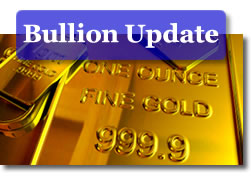 In New York trading futures for bullion:
Silver for July delivery surged 32 cents, or 2.3 percent, to $14.03 an ounce. Silver has jumped $1.53, or 12.2 percent this week.

Gold for June rose $4.50, or 0.5 percent, to $915.50 an ounce. The yellow metal is up 27.30, or 3.1 percent this week.

July platinum gained $14.20, or 1.2 percent, to $1,157.30 an ounce. Platinum has rallied 5.6 percent this week.
"The metals complex continues to exhibit a combination of attention from spec funds and inflationary anticipations," wrote Jon Nadler, a senior analyst at Kitco Inc. " At the same time, seasonality factors and an increase in the 'good news' side of the balance sheet may draw not only some of the sidelined cash but also some of that already parked in gold to the increasingly attractive equities markets."
The European Central Bank (ECB) cut its benchmark interest rate to a low of 1 percent on Thursday. That drummed up further inflation talks.
"It is clear now that the ECB has set its sights on boosting inflation," Brian Kelly, chief executive officer of Kanundrum Research, a commodities and macroeconomic research firm, was quoted on MarketWatch. "The central banks are trying to write a book with a can of spray paint. Investors are flocking to the soundness of gold in anticipation of a messy manuscript."
In spot bullion, the benchmark London gold fix price rose $2.25 to $912.25 an ounce. Silver soared 57 cents to $14.01 an ounce while platinum was fixed $25.00 higher to $1,161.00.
Gold, considered a hedge during times of high inflation and economic uncertainty, tends to follow oil and move opposite to the U.S. dollar. A rising greenback makes dollar-denominated commodities, like bullion, more expensive for holders of other world currencies.
Oil and gasoline prices
Crude-oil futures ended higher Thursday, but lost a sizable portion of earlier day gains. Oil for June delivery was as high as $58.57 a barrel. However, the contract ended the day at $56.71, rising 37 cents, or 0.7 percent.
The average price for gasoline jumped another 3.1 cents, matching the previous day increase. On average, AAA said consumers are spending $2.141 per gallon for unleaded gasoline. That is 9 cents higher than a week ago.
U.S. Stocks
U.S. stocks ended lower Thursday. The Dow Jones industrial average fell 102.43 points, or 1.2 percent, to 8,409.85. The S&P Index lost 12.14 points, or 1.32 percent, to 907.39. The Nasdaq Composite Index declined 42.86 points, or 2.44 percent, to 1,716.24.
Check out additional market resources at Live Bullion Spots, the Silver Coin Melt Calculator, U.S. Mint Collector Bullion Price Guide, and the Inflation Calculator.