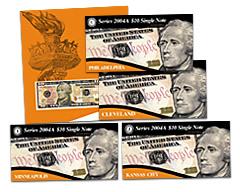 The release date and time for the second installment of the "We the People" Series 2004A $10 Single Note Collection has been announced by the Bureau of Engraving and Printing (BEP).
$10 notes representative of the Federal Reserve Districts of Philadelphia, Cleveland, Minneapolis, and Kansas City will go on sale at 9:00 A.M. (ET) on Thursday, April 30, for $35 per note.
Features of the series include:
Limited to 3,000 sets worldwide
The lowest serial number available for each note
The third denomination to be redesigned in the "Color of Money" series
Protection within a clear, acid-free polymer sleeve
Housed within an attractive folder representative of the corresponding Federal Reserve District
The entire collection includes 12 notes that are issued individually in three installments a year. The First Series 2004A $10 Single Notes were released in January, with singles representative of the Federal Reserve Districts of Boston, New York, Chicago and St. Louis.
The BEP offers the entire collection through a subscription program for the price of $359.40, a savings of $60.60 off the cost of purchasing each of the twelve Federal Reserve banknotes separately. The BEP automatically ships the banknotes as they become available.
When the second installment is released, they may be purchased through the BEP store at http://www.moneyfactory.gov/.
The remaining notes in the collection will be represent Richmond, Atlanta, Dallas, and
San Francisco with an expected release date of August 5.