The French Mint, Monnaie de Paris, has launched a new 10 euro silver proof coin commemorating the 20th anniversary of the Fall of the Berlin Wall.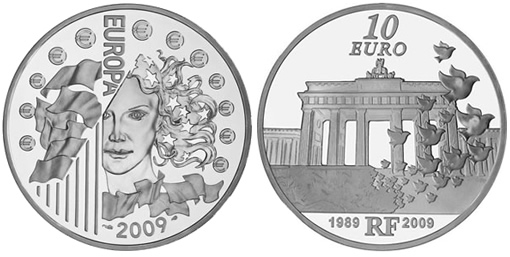 The wall stood for over 28 years separating East and West Berlin, symbolizing the separation created by the Cold War between the Soviet Union and the United States, and their allies.
The morning of August 13, 1961, Berlin citizens awoke to find units of the East German Army and East Berlin police blockading access between East and West. Shortly, barbed wire fences were put up, and roads and buildings were demolished to insure vehicles did not have easy access between the allies' western part of Berlin and the rest of the Soviet occupied zone.
Within a few years, a concrete wall was built amplifying the separation. This wall stood until 1989, when visa-free travel was once again allowed between East and West Berlin. This was shortly followed by the reunification of Germany.
Coin Specifications, Price and Order Details
The France 10€ Fall of the Berlin Wall Coin is limited to a maximum mintage of 10,000, has a diameter is 37mm, weighs 22.2 grams, and is struck in proof condition.
The obverse or heads side of the coin features the Goddess Europa, includes euro symbols, the date "2009" and "EUROPA."
The reverse or tails side of the coin depicts the fall of the Berlin wall against a backdrop of the Brandenburg Gate, with a flock of birds flying away to freedom. Included is the face value "10 EURO," "1989," "RF," and "2009."
This coin is available at a current price of 45.00€ (VAT), or 37.63€ outside the European Union. (See currency converter.)
It is available through the French Mint page:
A 200€ gold version was also struck, with the limited minted 500 already sold out.
About the French Mint
La Monnaie de Paris is a state owned industrial and commercial company, which holds the monopoly of manufacturing circulating coins for the French Republic. La Monnaie de Paris also fights counter-manufacturing of euro coins, produces guarantee marks for the State and showcases the collections of Musée de la Monnaie to the public.