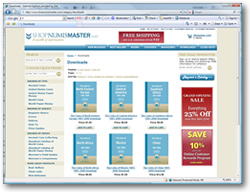 IOLA, Wis. — Krause Publications, a leading producer of coin and paper money magazines, books, online properties and events, has made its trusted Standard Catalog of World Coins information available in the form of digital downloads at its recently launched online store, ShopNumismaster.com.
Collectors of 20th century world coins are now able to obtain smaller, geographically focused coin listings and market prices tailored to their areas of interest. These micro-catalogs are offered at a more affordable price than the all-inclusive catalogs.
"Our standard catalogs contain coin data on more than 500 distinct geographic locations, but we realize many collectors may only want information on a handful of those," said World Coin News editor Maggie Stigsell.

"These micro-catalogs give collectors more options in how they access our Standard Catalog of World Coin listings."
When a customer purchases a digital download from www.ShopNumismaster.com, they receive a PDF file that allows them to enlarge on-screen images or print pages for portable access. As an added advantage over the printed catalog, the digital products are fully indexed and searchable.
Listings by country are Canada, Germany, Great Britain, Russia, China and Mexico. Geographic bundle packages cover North Africa, Southern Africa, Central America and North Eastern Europe. All coin issues are from 1901-2000.
Following this initial launch, the product line will be expanded to cover more countries, regions and dates.
The digital downloads – as well as other coin and paper money books, magazines and electronic resources – can be viewed and purchased at www.ShopNumismaster.com.
About Krause Publications
Krause Publications, based in Iola, Wis., is the world's largest publisher of leisure-time periodicals and books on collectibles, sewing and quilting, hunting, and construction. Chet Krause, a long-time collector of coins, published the first issue of Numismatic News on Oct. 13, 1952, with nearly 1,000 readers.
Today, Krause Publications, owned by F+W Media, offers more than 40 periodicals, 10 hobby shows, 750 reference and how-to books, and web properties such as NumisMaster.com, the online coin price database. F+W Media, an ABRY Partners, LLC company, also operates book clubs, conferences, trade shows, interactive media and education programs.