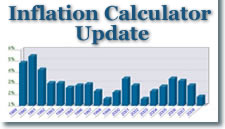 U.S. inflation in March dropped to an annual rate of -0.4 percent, marking the first year-over-year decline since August 1995, the Labor Department reported Wednesday. The change is a stark contrast to the month prior, when inflation increased by the fastest one-month pace since July 2008, rising to 0.2 percent.
Then, energy costs with a surge in gasoline prices at the pump accounted for two-thirds of the pickup. March was a different story as energy prices dragged consumer costs down 0.1 percent.
Falling inflation is generally bad news for traditional safe haven investments like gold. The yellow metal initially ticked lower after the news. However, precious metal prices are holding steady at last check and showing modest gains.
Using the government's latest Consumer Price Index (CPI) data, the CoinNews Inflation Calculator reflects inflation's most recent change. By entering any two dates from 1913-2008 and then a dollar amount, the calculator measures the change in the buying power of the dollar over time.
Inflation, rates and price figures in March…
The core Consumer Price Index, which excludes volatile food and energy costs, actually increased 0.2 percent in March. That helped dispel concerns of falling inflation, and focus attention by some economists toward the opposite spectrum.
"The real risk to this economy is inflation," Ken Mayland, president of ClearView Economics, was quoted on NYTimes.com. "When the Fed doubles — and is en route to — tripling its balance sheet, I don't fear deflation."
Several interesting consumer price figures for March follow:
Tobacco and smoking products rose 11%, accounting for over sixty percent of the March rise
New vehicles prices climbed 0.6% following a 0.8% increase in February
Energy costs fell 3.0% after a 3.3% jump in February
Housing prices, which accounts for about 40% of the CPI index, declined 0.1% following three straight months of flat readings
The CoinNews Inflation Calculator can provide further historical insights.
Inflation Calculator examples
Using the calculator, anyone can determine the purchasing power of the dollar over time. A few examples after adjusting for inflation:
An item purchased in 1913 for $1 would now cost $21.49
An item purchased in 1950 for $10 would now cost $88.26
An item purchased for $20 in 1985 would now cost $39.54
Mixed dates may also be used with the Inflation Calculator. As examples:
An item purchased today for $500 would have cost $126.46 in 1975
An item purchased for $1000 in 1980 would have cost $1,586.17 in 1990
Of course, not all "goods and services" rise or fall in tandem with inflation rates. For example, many computers when adjusted for inflation are actually less expensive today (and do more) compared to years ago.
Latest Charts on Inflation Rates
The CoinNews inflation page also includes two updated charts indicating the:
Annual Averages for Rate of Inflation
Annual Percent Changes for Rate of Inflation or Inflation Rates
While the Inflation Calculator is more of a general financial interest tool, specific numismatic calculators and tools may be found via the CoinNews menu: "COIN PRICING & COLLECTOR TOOLS".