Gains in gold were swiped away for the year on Monday as the yellow metal slumped as low as $865.10 an ounce. Silver was struck harder as it fell toward $12. Platinum, oil and U.S. stocks retreated as well. The U.S. dollar gained against other world currencies.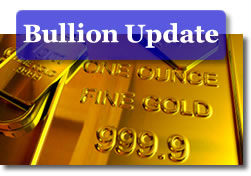 The New York bullion trading futures say it all:
May silver fell 62.5 cents, or 4.9 percent, to $12.11 an ounce.

Gold for June dropped $24.50, or 2.7 percent, to $872.80 an ounce.

April platinum declined $14.40, or 1.2 percent, to $1,145.00 an ounce.
"The after-effects of last week's G-20 meeting and IMF gold mobilization chatter started to take their effects on more than just the swiftest speculative trigger-fingers out there," wrote Jon Nadler, senior analyst at Kitco Bullion Dealers. "Mass position liquidations followed on the heels of a substantial rise in the US dollar and a $1.40 drop in crude oil."
In spot trading, the London afternoon gold-fixing price, which is a benchmark for gold traded directly between big institutions, stood at $870.20 an ounce. The London market for silver and platinum ended at $12.41 and $1,150.00, respectively.
Gold, considered a hedge during times of high inflation and economic uncertainty, tends to follow oil and move opposite to the U.S. dollar. A rising greenback makes dollar-denominated commodities, like bullion, more expensive for holders of other world currencies.
Oil and gasoline prices
For the second straight day, crude-oil futures dropped. Oil lost $1.46, or 2.8%, to $51.05 a barrel. Gasoline prices at the pump moved lower (slightly) as well. AAA said the average price for unleaded gasoline fell one-tenth of a cent to $2.039 a gallon.
U.S. Stocks
U.S. stocks ended a four-day winning streak as banking and technology sectors ere weakened. The Dow declined 41.74 points, or 0.52 percent, to 7,975.85. The S&P lost 7.02 points, or 0.83 percent, to 835.48. The Nasdaq was lost 15.16 points, or 0.93 percent, at 1,606.71.0 points.
Check out additional market resources at Live Spots, the Silver Coin Melt Calculator, U.S. Mint Collector Bullion Price Guide, and the Inflation Calculator.